You are enjoying a hot coffee with your furry friend sitting on the couch.
Suddenly you look to the side and noticed claw marks on your expensive couch.
It's your dear furry friend who is responsible for it. 
Instead of declawing your cat, you should learn how to protect furniture from cats.
Indeed.
Scratching is a part of their behavior, which is good. It is what they do unintentionally, and they have nothing to do with it.
Cat scratches to remove their old claw sheath, stretch muscles, and communicate with others.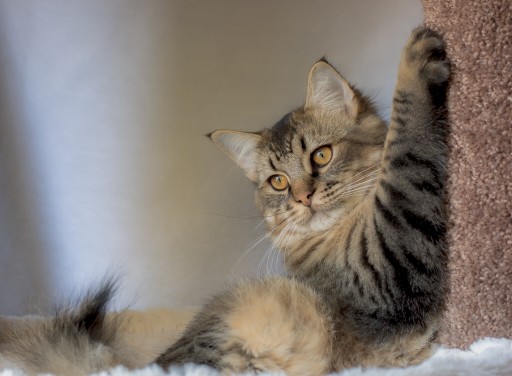 They enjoy scratching on furniture more than anything else. Sometimes the situation comes when you have to choose between your furniture and cats. 
Well, you cannot stop your cat from scratching, but you can train them.
Besides, there are a few things you can do to protect your furniture. Let's learn more about them below.
How to Protect Furniture from Cats?
The best way to protect is by using furniture covers. Covering your furniture will protect it from cat scratch, dirt, and cat's hair.
You can cover your couch, chair, etc. with slipcovers. Slipcover comes in a range of fabrics.
Choose one that is easy to wipe and machine washable.
Spread Double-sided Tape on Your Furniture
Attach double-sided tape on different places where your cat may scratch.
The sticky feeling of tape will prevent your cat from scratching.
Most cheap double-sided tape will likely leave sticky residue on your couch. Make sure you choose the high-quality one.
You can also try one more tactic with double-sided tape.
That is sticking a few balloons in places where your cat may scratch.
Whenever they go to scratch, a balloon will pop. So they would literally stop scratching. 
Spray a Scent That Your Cat Doesn't Like
There is a lot of repellent spray in the market with the scent which cats don't like.
Buy a deterrent spray and spray it all over the furniture. You'll find them in pet stores. 
As the last step, you can try trimming your cat's claw.
When their nails are dull, it won't cause any damage if they scratch.
Make sure you trim your cat's claw with care. 
How to Train Your Cat to Discourage Trimming Your Furniture?
If your cat is used to scratching, then keep the sisal scratching area next to the place where it scratches.

Encourage your cat to scratch on their dedicated scratching area. You may want to rub a little catnip over the scratching area.

Reward them when they scratch their scratching post instead of furniture. 

If your cat still scratches, try startling whenever they misbehave.
Voila! This is how to protect furniture from cats.
It is possible to make your cat well-trained so that they don't scratch.
So, don't be disappointed and keep trying on!
Popular posts:
As an Amazon Associate, I earn from qualified purchases. www.bestcatfoodreviews.com  is a participant in the Amazon Services LLC Associates Program, an affiliate advertising program designed to provide a means for sites to earn advertising fees by advertising and linking to Amazon.com..