When the temperature drops significantly, it becomes tough for humans to survive.
So, think about what it is like for cats?
How cold is too cold for cats?
Let's break down this.
Your little feline friend has a body temperature of around 100oF. It is the same as humans, but they cannot tolerate colder weather as humans.
Humans somehow manage to survive by putting on warm clothes and drinking warm water. 
However, if the body temperature in cats drops below 100, it becomes uncomfortable for them.
You possibly have noticed that they become affectionate as the night becomes crisp.
Ever wonder why they do so?
Well, it's because they enjoy your body warmth. Not only cats but the other pets also love to share body heat.
In this article, we'll discuss their behaviour more in the winter. 
How Cold Is Too Cold For Cats?
There are a lot of myths concerning how cold is too cold for your cat.
Some people think the freezing temperature of 32oF means there is an increased risk of hypothermia.
Well, that's not always the case. Your cat might be uncomfortable even at a higher temperature. 
How cold it is unbearable for cats depends on many things.
Below are some cases that explain the endurance of cats in colder weather:
1. 400;">Older cats may not endure colder temperatures as the younger cats. Notably, the cats that have arthritis. 
2. Sometimes, it depends on the amount of food they get access to. Cats need more calories to survive colder weather. If your cat goes outside more often, they will need enough calories and nutrition. 
3. Cats with long hair can withstand colder temperatures than those who have short hair. Their extra hair works as a protection layer. It keeps them a little warmer in the winter. However, the sill can be prone to frostbite and hypothermia. 
How to Know If My Cat is Cold?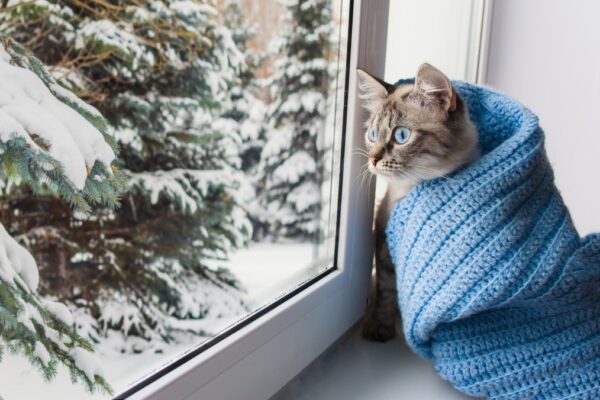 Cat's body temperature must stay above 90oF. Still, you need to know the signs when they feel cold. 
1. Their ears, footpads, and the tip of the tail will be shivering when they feel cold. 
2. When they feel uncomfortable, they'll curl up their body into a tight little ball. 
3. You'll find them in the humped, puffed-up, or the meatloaf position with paws underneath. 
4. They will seek body contact. 
Conclusion
We hope now you know how cold is too cold for cats.
Cats are vulnerable to cold weather.
Thus you should act more responsibly.
Winter is all about taking extra precautions for your furriest family member.
Popular posts:
As an Amazon Associate, I earn from qualified purchases. www.bestcatfoodreviews.com  is a participant in the Amazon Services LLC Associates Program, an affiliate advertising program designed to provide a means for sites to earn advertising fees by advertising and linking to Amazon.com.