When considering the amount of food a cat consumes per day, it is essential to consider aspects such as age, weight, health, and physical activity.
The correct feeding of cats is essential for their excellent health.
Most of us who live with cats tend to be worried about How often should I feed my cat during the day?
At least 58% of cats suffer from obesity, and this is because their owners do not ration their food, allowing the cat to eat throughout the day, developing a voracious appetite.
Include this feeding method in your cat to avoid diseases and high feeding expenses.
When the cat is very young (approximately until 4-8 weeks), it is considered a lactating animal, so it will not require any feed or similar.
One of the essential factors in determining the frequency a cat should be fed is the stage of life in which the pussycat is.
These Are The Times You Should Feed Your Cat According To Its Stage Of Life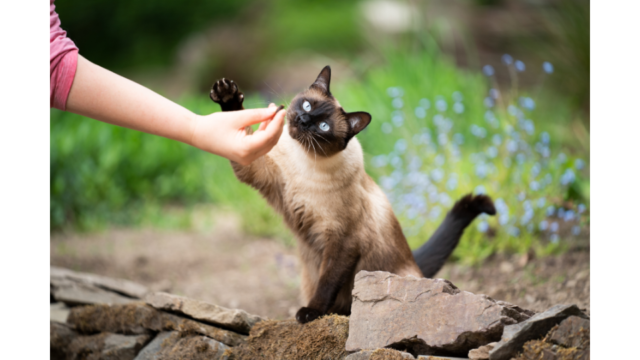 If it is a kitten: By choosing a portion of food according to the age of your cat's life, you are allowing it to obtain the necessary amounts of nutrients and supplements that will enable ideal nutrition and adequate growth.
Given the high nutritional requirement of a puppy cat, it should be fed at least three times a day, at least until its first six months of life.
If it is an adult: When the cat reaches its year of life, you can make the change and reduce the portions to two. One in the day and one in the night.
If the cat is an adult or Senior: When the cat turns seven years old, the two rations should be kept a day since obesity at this age can be dangerous for their joints, bone, and heart.
Consequences Of An Excess Or Deficit Of Feeding
The surplus or deficit of feeding in your cat can lead from problems of overweight or malnutrition to diseases that damage their quality of life.
Some illnesses include diabetes, gastritis, or the heart, which represents a mortal danger for your furry.
Now, it is essential to remember that there are several types of feeding for cats with specific diseases such as renal dysfunction, obesity, and diabetes, among others.
Whether your cat is healthy or suffers from any pathology, always ask your veterinarian about the best food modality, quantity, and frequency.
What Kind Of Food To Offer And How Often Should I Feed My Cat
While there are many types of diet, the most frequent is feeding them with cat feed.
But the question may arise: how often to offer food to the pussycat?
Meal Frequency
Preserving its hunting instinct and as a Carnivorous animal, the cat prefers to eat several times a day.
And, if there is no behavioural or health problem, it is normal for the kitten to self-regulate the amount needed to ingest.
Now, it is often impossible to offer many foods, and not all cats have precisely the same routine and behaviour.
So the exciting thing is to observe each cat and see what their specific needs are and how they behave.
As experts from Cornell University College of  Veterinary Medicine say, "although the food you offer your cat is complete and balanced, the simple question of how often to offer it does not have a simple answer."
A natural feed for cats of good quality will make feeding better and ingest what is necessary for fewer quantities.
 But are all cats the same? 
The answer is no, although there are general aspects we can consider.
Conclusion
As it is of growing age, the food frequency is usually between 3 to 5 times a day until the cat is about six months. 
Possibly you start offering five daily servings, and then it decreases as long as we see that the cat is healthy and active.
When the cat is about six months old, the frequency can be a couple of times a day, and when he is an adult (1 year), you can give them food once a day.
You can also maintain when the cat is growing too old.
Having read through this article, I believe we have been able to help you to answer the question, "how often should I feed my cat?
As an Amazon Associate, I earn from qualified purchases. www.bestcatfoodreviews.com  is a participant in the Amazon Services LLC Associates Program, an affiliate advertising program designed to provide a means for sites to earn advertising fees by advertising and linking to Amazon.com.