When you adopt your first little furball, you're filled with love and the need to protect them from the world.
While they're off creating chaos in your life, you're looking for the very best to offer your precious kittens.
If you're anything like me, then you're looking for the absolute best. 
I made a vow to provide Kesha and Keko with the very finest products, from toys to kibble.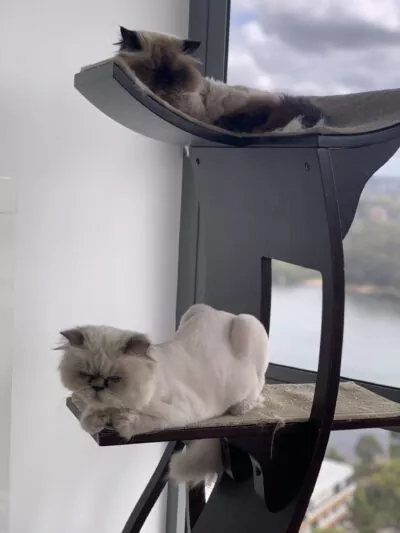 I couldn't let them make do with just anything; the thought remains horrifying to me. The little gremlins might scratch all my furniture, but I love them with all my heart. 
When I finally set off on my journey to get the very best of products for my precious fluff balls, I noticed something right off the bat.
While it wasn't hard to find some great toys to keep them from getting too bored, finding the right food was a lot harder. 
While researching, I found articles, papers, and more with so much contradicting information my head spun. The debates, the reviews, the scandals in the review community had me shaking my head in defeat. 
After reaching out to friends, I noticed that every cat parent had the same issues as me!
We all wanted to give our cats the very best of food but just couldn't find it.
With the wide variety of options, types, and disgusting smells, you can't be sure what is good or not. 
Even the best cat food reviews still had drawbacks with terrifying implications.
Kesha and Keko might have been okay with sampling all the foods I brought home, but I couldn't be comfortable giving them something I couldn't vouch for.
Even if they had woken me up at dawn, I loved them too much. 
It was then that my quest for the truth started. I had to get the answers to this elusive situation.
Where could I find the perfect review?
What are the best ingredients for my cats?
Is it all the same?
I needed answers, and I needed them immediately. 
I scoured the internet and every other resource to find absolutely any information.
There was no blog unopened or book unread. From pamphlets to veterinarians, I had to find information that was valid, reliable, and useful.
Through my search for answers, I gathered enough information about cat food, health, and well-being that I just had to share. 
Just sharing the information with my fellow cat parents didn't seem enough. After all, there could be someone anywhere in the world looking for the specific information I possessed.
I could not, in good conscience, hoard the information I had. I had to do it for the cats of the world. 
I started the blog to create a space for cat parents to get their information.
This purpose holds true even today. Whether you're a first-time parent or need a better alternative for your senior cat, I have all the information for you. 
The information on the blog isn't your average everyday review.
I spend hours researching, reviewing, and finding the correct and relevant information to put up a review.
Apart from the hours of research, my industry experience and all my behind-the-scenes knowledge really helped. 
However, what I've found is that nobody can tell you what is best.
Not the brand, the reviewers, or the so-called experts, but it is the people who will be able to tell you what works.
I have honest conversations with the cat parents around me to find what works the best. 
Being a consumer myself, I have an inside edge to reviewing cat food.
Through years of experimentation, research, and miracles, I have found the best of wet food, dry food, and diets for our cats.
I understand the everyday struggle to find the perfect food for your precious furball, and I make sure that you have the resources to ease that pain. 
Speaking of resources — there's nothing better than having the answer to your cat's behavior.
Did your cat spend three days sleeping?
Are they meowing weirdly?
Did you get scared because of their hacking cough?
Before you run off to the vet, let me help you out. From the best foods to every behavior explained in meticulous detail, I've understood the needs of my fellow cat parents. 
To help the cats of the world and their haggard parents, I created Best Cat Food Reviews.
So, not only do I have a place to share my knowledge, but you also have a source of information you can trust your cat's health on!