Cats can often cause chaos in your house if they are left unattended.
Everyone has a busy schedule nowadays, therefore there is no one to look after your kitty.
Out of boredom, your kitty may end up committing serious household crimes.
You can solve this issue simply if you know how to decorate your apartment for your cat's enjoyment.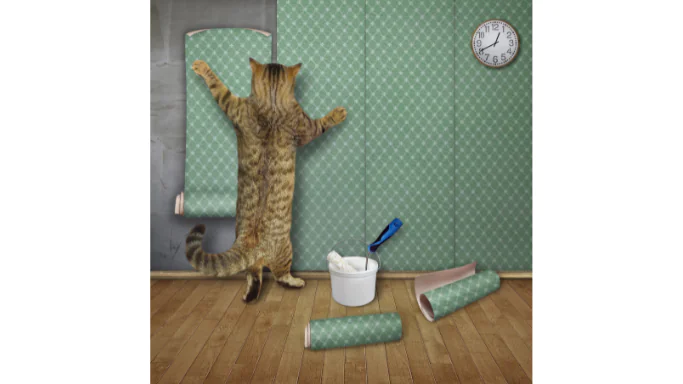 Top 5 Smart Hacks To Decorate Your House For Your Cat's Enjoyment
You can ask yourself this question: How many hours do you really stay in your house?
We almost use up 10 hours a day only for our jobs and transportation and sleep nearly 7 to 8 hours a day.
Other household chores take up 2-3 hours at the very least. If you do this simple math you will realize you only have 2-3 hours of play-time with your kitty.
Just imagine, if you are giving your kitty only 2-3 hours of the twenty-four long hours of a day, what will she do if you are not around the rest of the time?
Nothing good obviously!
Because animals have inner energy which has to be used up by playing and hunting.
Now if you are not there to play with her or to spend time with her, she will use up her energy by herself.
As you are not there every moment to guide her on how to play, what to play with, and what not to play with, she will continue to cause havoc in your house.
Do not think she is doing it as revenge, but she is just bored and trying to spend her time the cat-way!
So, what can now be the solution?
Yes, you guessed it right, design your house in a way that she will enjoy playing in.
Here is an easy guide on how you can decorate your house for your cat's enjoyment and settle the issue of a messed-up house quickly.
Cats have this instinct of climbing higher to have a better vision over their kingdom.
So, building structures that invite and encourage your energetic kitty to climb up is a great way to make her life in your house enjoyable.
You can bring artificial cat trees for your kitty. Artificial cat trees will give her a new sense of adventure.
These trees also have small box-sized rooms on top of them. So, after some climbing and falling, when she is a bit tired, she will be able to rest there.
You can also clean up the top of your refrigerator. They are often a bit warm which your cat will certainly love. Refrigerators will also do the same job as the cat trees. 
2. Bring in Some Leafy Plants
Although domesticated long ago, cats still do possess many survival instincts of their ancestors.
Bringing leafy greens into your house will surely help your kitty to have a more jungle-like experience. But, always be cautious in terms of bringing plants.
Not all the plants are good for your cat!
Catnip is perhaps the most popular plants among cat owners and because of some unknown reason cats adore it. So, bringing in catnip is a safe choice.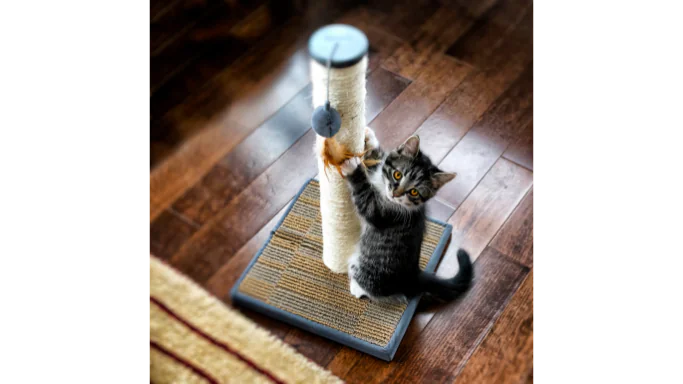 It seems strange to us when cats start scratching, but this too is one of their many defensive mechanisms.
Cats mainly scratch to keep their nails sharp. But, as cats are known to be highly territorial creatures, they scratch to mark their territories.
They leave a chemical scent when scratching so that other cats do not invade their territory.
While getting in your house after a long office day, you turn the lights on and see your garments and clothing ripped apart into pieces.
Or the toilet tissue running all around the toilet floor.
No!
Your kitty is probably not plotting to kill you, but she just needs some scratching posts.
You can get scratching posts within 20-50$ in your nearest market.
If you think a single scratching post is not enough then bring in multiple scratching posts.
Set them up in different rooms, so that she can go and mark each room as her territory.
At the time of playing with the toys, you need artificial grass where your beloved kitty sits down to play with. 
You'll have peace in mind knowing that, artificial grass would be better for your cat than natural grass.
The thing to remember, this artificial turf must have been lead-free or chemical-free to be better than natural.
So to play with the toy that you bought for her, need a surface to lay on, this grass can offer to do that.
Cats also love to watch the people, the streets, birds, and other objects moving, through the windows.
If you leave your windows with heavy curtains, she will miss the thrill of watching things she likes.
Therefore, try, from now on to leave all the windows without curtains when you leave for outside chores.
Cats are more like humans, perhaps the reason we like them so much and extremely popular in arts and culture, in fairy tales and stories.
They resemble many human traits thus it brings them closer to them.
Similarly, the cat needs the attention and the love we humans crave.
If you care for your kitty you should spend time with her. If it is not possible, then build your house in a way that she feels loved and happy.
Build a cat-friendly house and enjoy the moments together.
Don't forget to check out our top content for sensitive stomach cat food and other reviews.

As an Amazon Associate, I earn from qualified purchases. www.bestcatfoodreviews.com  is a participant in the Amazon Services LLC Associates Program, an affiliate advertising program designed to provide a means for sites to earn advertising fees by advertising and linking to Amazon.com.