FREE SHIPPING ON DOMESTIC ORDERS OVER $75!
Hey folks, tell me one thing. The way a pack of wolves is called packs and a group of deer is called a herd.
What do you call a group of cats?
Like other animals, a group of cats also has some interesting and strange names. 
Simply put, a group of cats is usually called a clowder. A group of cats is also known as a few more exciting names.
If the cats are countless in number, they are called a glaring. 
Cats are also recognized in different names based on their age levels, behavior, lifestyle, and more.
In this article, we'll talk more about a group of cats with different ages and characteristics. There we go.
What Do You Call a Group of Cats?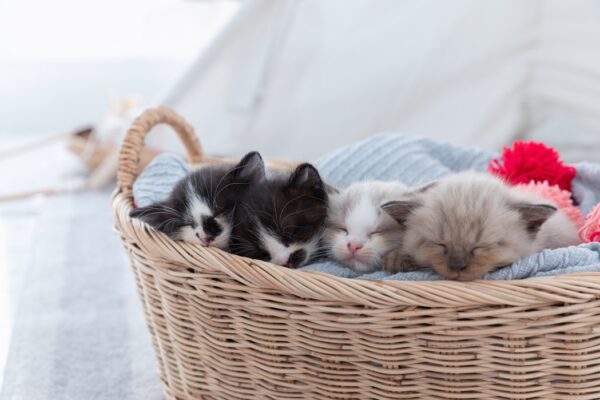 Earlier, we mentioned, a group of cats can be called a clowder and a glaring. These two are most commonly used for a group of cats.
You may be familiar with the term 'litter.' A litter consists of two to five kittens, and a group of the kittens is called a litter. 
Likewise, a litter of kittens is called a kindle. The name kindle comes from the combination of the German word "kinder" and the English word "kindelen."
Kittens have few more names depending on their nature. Kittens are called intrigue when they are too curious. 
Moreover, wild cats have different names when they are in a group.
They can be either called destruction or dowt. It is possible because of their destructive nature.
Cats are also familiar with unique names according to their gender. 
When a male cat neutered, it is called gib, and otherwise, it is termed as tom.
Similarly, the name of the female cats is molly. You may also know, if the cats are attacking and creating a disturbance, they are considered a nuisance. 
Collective Nouns of Cats
Cats are familiar with the following nouns;
Clowder of cats

Clutter of cats

Cluster of cats

Destruction of cats

Glaring of cats

Dout of cats

Nuisance of cats

Litter of cats

Pounce of cats
Where Does the Word "Clowder of Cats" Come From? 
The most common name for a group of cats, "clowder" comes from the term "clodder." (Source dictionary.com).
The term "clodder" is a Middle English that was created in the 1700s. People used this word to define a "clotted mass."
After years, it evolved as the current name "clowder." 

What Are The Big Cats Called?
If you ever been to the wild, you'll likely see other species of cats. Mostly you'll notice big cats there who denote to the five living members of species Panthera. 
Tigers

Lion

Jaguar

Leopard

Cheetah
How the Group of Cats Behaves In Different Situations?
Well, it depends on if they live in the home or they live in the wild. Evidently, when they live in a home, they'll not likely make large groups. If you buy so many cats, it's a different thing.
Cats are quite unsociable, but some cats can make bonds with each other.
If you keep a number of cats, some will become great friends, while others will tolerate each other. So, they may or may not form groups at home. 
However, situations can be different in wildlife.
Though they don't tend to live in a group, they may form groups depending on many factors.
For example, to search for the food or their living situation. 
In the colony of feral cats, a number of female cats and kittens will cooperate to survive.
Even though it starts to cooperate, they hunt individually. Some feral cats also make strong bonds with each other in the colony—especially the kitten groups.
Managing Domestic Clowder of cats
When you have a group of cats at home, they are forced to live in a clowder.
Some take time to adapt to the situation, while others become friends quickly. Domestic clowders act differently than a feral group of cats. 
They don't have a gender preference, no desire to engender, or hunt for food.
Cats in a clowder regulate their own space and succumb to alpha cats. It depends on how they rub against one another to spread their scent. Also, they ensure their connection within the group. 
In the household, each kitty in a group should be fed away from one another.
It is better to feed them in different areas as cats are susceptible while eating.
When you welcome a new cat, you should use the alpha cat. They accept newcomers better than others. 
Conclusion
Thus far, you know what do you call a group of cats?
The names sound interesting.
Cats are not used to living in a group in contrast to other animals.
Do you have a clowder of cats at home?
How do you manage them?
Share your experience below. 
As an Amazon Associate, I earn from qualified purchases. www.bestcatfoodreviews.com  is a participant in the Amazon Services LLC Associates Program, an affiliate advertising program designed to provide a means for sites to earn advertising fees by advertising and linking to Amazon.com.