Do you observe cat nail split around your house? If yes, it's time to know some things about such a phenomenon.
Our furry buddies have adorable features like shiny eyes and a soft fur coat. However, they also possess another predominant one. You guessed it – Claws!
Cats have claws that are the first line of defense. They use their sharp nails to attack or even enjoy occasional scratching.
But, over time, these nails split just like a snake sheds its skin. As a cat owner, you might have seen such split nails around the house.
So, should you worry? And if you must, what should you do?
This guide will solve all the queries of cat owners about nail splitting and trimming.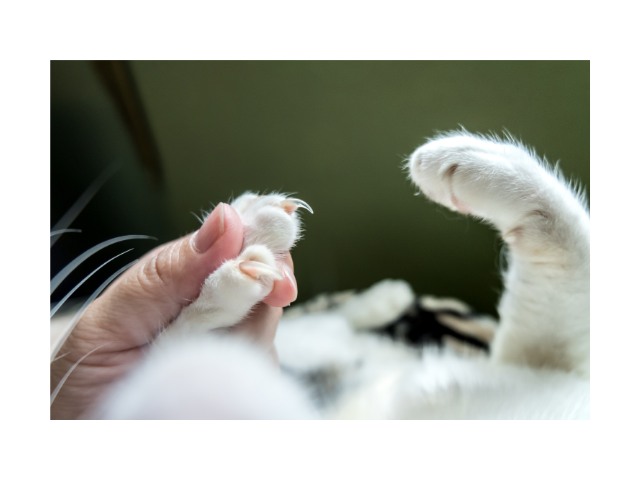 Let's understand a little bit of science behind this natural process. Why do cat nails split?
Well, cat owners should realize that nail splitting has multiple reasons. It might be all too natural or even man-made. (Yes, even you can be partly responsible). 
Here are the common reasons for this process:
The natural shedding process

The age factor

Nutrition deficiency

Nail disorders

Wrong trimming procedure
Let's understand these reasons in more depth.
The Natural Shedding Process
If this reason is behind your feline's nail split, cutting cat nails is not a huge concern for you. That's because shedding is a natural process and portrays signs of good health.
You might know the fact that snakes shed their skin. The new skin presents a rejuvenated look. In the same way, cats shed their nails.
This shedding can take place every 2 – 3 months, depending on your cat's health.
Basically, after an average of 2-3 months, the old nail grows in length. Consequently, the surrounding layer cracks and eventually splits your kitty's claw nail.
This process is necessary for new nails growing on each claw. So, cat owners can relax if nail splitting is all-natural. In such a scenario, you need a reliable clipper and cut the nails properly.
The Age Factor
Cats are natural predators. Their instinct is to scratch objects like trees, grass, or even a nice little furball. So, naturally, they trim their nails for this activity.
However, as these lovely little animals grow in age, their claws lose strength. Subsequently, they end up damaging their nails. With age, the nails split, and you have to deal with it.
In aged cats, a cat nail split can cause physical pain to their paws. So, if you own an older house cat, it's time to pay attention to help your little fellow.
Nutrition Deficiency
Your cat nails might be splitting due to a lack of nutrients. For proper growth, cat foods in the market provide a balanced amount of vital nutrients.
However, some cat owners overlook this aspect. Eventually, your kitty can end up falling short of essential nutrients like proteins, minerals, and vitamins. This lack of nutrients weakens your cat's immune system.
A weaker immune system can impact the muscles, skin, eyes, and nails of a cat. This can be one reason for the common issue of cat nail splitting.
A handy tip: If you observe frequent shedding of nails with small bloodstains, lack of nutrients is a probable cause.
Nail Disorders
Sometimes, the splitting of nails can be a sign of underlying nail disorders. To be sure, you need to observe symptoms in your cats like:
Difficulty in walking

Frequent paw licking

Discoloration or unusual nail color

Swelling of claws
If you detect the above symptoms in your kitty, it is time to go to the vet. Sometimes, nail disorders are a consequence of human error. During cat nail trimming, cutting too close to the nail bed gives rise to such disorders.
Wrong Trimming Procedure
Let's face it. Most cat owners do not take training as a vet or animal helper. So, such folks rely on a friend or the internet to learn to trim their feline's nails.
Due to this reason, cat owners overlook a blunt clipper or improper clipping technique. A blunt blade can end up splitting your cute companion's nails. This splitting can lead to infections and worsen this process.
So, to overcome this reason, ensure you:
We recommend you purchase a reliable cat trimming clipper for this purpose. This item will prove effective without the need for a hefty sum of money.
Overall, these five reasons can escalate your cat nail splitting. If you notice broken nails in the house, it's time to carry out first aid actions on your cat.
With all the above reasons, one thing is clear. Your cat tends to trim their nails. However, the act isn't smooth and can lead to the splitting of nails. Surely, this is an undesirable outcome.
So, how can you avoid such a painful scenario?
For starters, you can trim your cat nails properly. The trimming process isn't rocket science. Read further and trim your kitty's nails carefully to avoid splitting.
Buy The Right Tool
Preparations are vital. Your best preparation to trim your cat's nails lies in a suitable tool. The main types of clippers are:
Here's a quick breakdown:
| | |
| --- | --- |
| Clipper Type | Best For Trimming |
| Guillotine  | Thick, long nails |
| Scissor  | Tough, old nails |
| Plier Type | Tough nails |
Plier-type clippers are a combination of guillotine and scissors. So, choose one that suits you comfortably.
A handy tip: Always keep the clipper blade sharp.
The Right Way To Trim Cat Nails
We assume you have the right tool by now. So, all you need to do is follow the steps below:
Stroke your cat's paws and make them feel comfortable. Cats have retractable nails. So, you need to hold the paw steady.

Place your cat in a comfortable position (preferably your lap).

Press the toe pad gently. You will observe the nail protruding out from the paw.

Notice the nail anatomy. It has two regions – the pink 'quick' and sharp tip. Remember, you have to cut the sharp tip.

Hold the clipper in a vertical position.

Trim the nail from bottom to top. This avoids the splitting issue.

Cut the tip or edge, and your kitty's nail trimming is complete.
The steps might sound simple, but they aren't. Some owners panic if they cut the 'quick' or trim too close to the nail bed.
In such circumstances, it is a good idea to stay calm and apply an astringent powder. Don't worry; your cat's nail will stop bleeding after some time.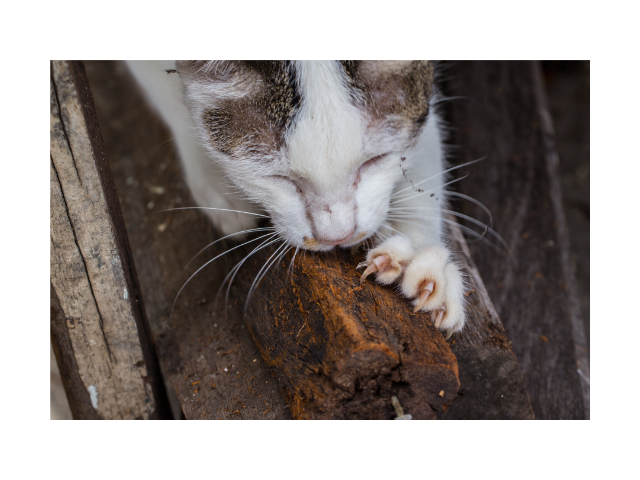 How Often To Trim Cat Nails?
Generally, 2-4 weeks is the average time to trim your feline's nails. In some cases, this frequency can vary from 10 days.
Trimming your cat's nails depends on:
Your cat's behavior

Age

Activity level

Nail growth
So, you can choose an average period of 2 weeks to trim your kitty's nails. This duration will prevent splitting and other issues.
Moreover, remember to reward your cat with her favorite food after trimming. After all, it's her patience that made trimming a success!
Trimming your feline companion's nail can seem intimidating at first. But believe us, this task will save your cat from upcoming health issues.
It is crucial to use a sharp clipper while cutting your cat's nails. You can even start by trimming one nail at a time. Do not rush the process. 
Regular cat nail trimming will solve the splitting problem drastically.  
Frequently Asked Questions About Trimming Cat Nails
As an Amazon Associate, I earn from qualified purchases. www.bestcatfoodreviews.com  is a participant in the Amazon Services LLC Associates Program, an affiliate advertising program designed to provide a means for sites to earn advertising fees by advertising and linking to Amazon.com.