If you intend on feeding dry cat food to your fluff balls, undoubtedly they should be the best dry kitten food reviews you could lay hands on.
We love kittens just as much as you do, if not more! These cute little babies full of happiness and playfulness should be fed something that only works with their excitement and wonders about everything around them.
For them to maintain this energy for a long, long way to their adulthood, we want them to consume healthy food from the very early stage of their lives.
Are there plenty of cat food brands claiming to provide the best nutrition for your cats, so which one should choose?
Don't you worry a bit! We have rounded up a selection of 5 of the best dry kitten foods based on the analysis of ingredients listed, nutrition provided, and caloric content.
To have a quick look at everything, we have jotted down the positives and negatives that you can take a glance at to decide the one(s) you want to buy.
Preview
Top Picks
Editor Choice
Food Name
IAMS PROACTIVE HEALTH Healthy Kitten Dry Cat Food with Chicken, 7 lb. Bag
Hill's Science Diet Dry Cat Food, Kitten, Chicken Recipe, 7 lb. Bag
Purina ONE High Protein, Natural Dry Kitten Food, +Plus Healthy Kitten Formula – 16 lb. Bag
Original Grain- Free Recipe with Real Chicken – Kitten
Blue Buffalo Wilderness High Protein, Natural Kitten Dry Cat Food, Chicken 2-lb
Is it okay to feed your kitten dry food?
It is only natural for you to have such a question in your mind. When we were toddlers, we were fed more wet foods than dry foods, right?
In kitten years that translates to a very young stage. So, how safe is it to let them munch on dry kitten food?
If your kitten is still obtaining its dietary needs from nursing, you should consider feeding them wet kitten food. And if not, and they are coming out of that stage, you should let them munch on dry kibbles.
If you worried it wouldn't be able to munch on them, there are ways to feed them with kibbles and we will discuss them later.
The bundle of nutrition the dry food provides is necessary for the kittens to develop their brain, nerves, spinal cord, muscle mass, reflex, teeth, and bone health.
Also, if you are traveling with your kitten, it is easier to bring along than the wet alternatives.
Kitten food vs Senior cat food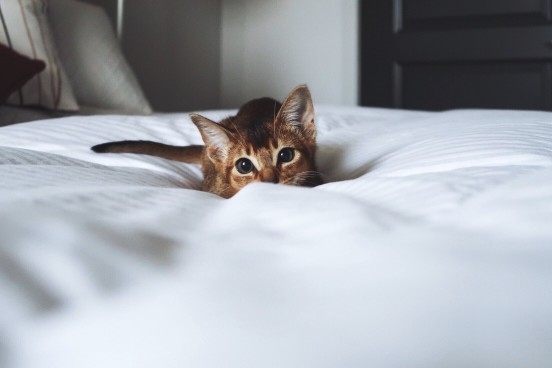 There are a few differences between what you feed your adult cat and what you feed your kitten. We tried to explain it to you:
1. The rate at which kittens grow may surprise you. If you have the kitten since it was born, you would know that it used to weigh in ounces. But only within months, it can double or triple the birth weight.
Aside from the jumping and running that kittens do all day, they need extra energy only to grow! So for the overall development of the kittens, you should be feeding them food that contains as much as 3X the energy as senior cats.
2.The immune system of kittens is extremely fragile. If not given the proper nutrition, their ability to ward off diseases won't be so strong.
As much we want healthy physical growth, we want better growth on the inside of your kitten. If you build it at a younger stage, these hairballs will have great immunity as they grow into adult cats.
3.The development of a third thing is just as necessary. That is their teeth. The feeding of dry kibbles, if not lending any other thing, should at least yield the improvement of your cat's teeth.
It will remove the plaque and make them sharper and stronger with use. Although it may be initially hard and even painful taking the kibbles. But who wants poor teeth in their kittens, right?
Top 5 Best Dry Kitten Food Review:
1. Hill's Science Diet Dry Cat Food for Kitten in the flavor Chicken
This is a formula kittens love more than most others. Designed for indoor kittens, it contains DHA that is necessary to develop the nervous system of the kittens and their optical health.
It also contains vitamins C and E which promotes the buildup of a healthy immune system in kittens.
While analyzing the available information, the first five on the ingredients list came out to be the following:
Chicken , Brown Rice, Wheat Gluten, Chicken Fat, and Egg Product.
From our study this far, we have a quality protein in the form of chicken. After that, questionable ingredients (ingredients that would be better off without being a part of the product) include brown rice and wheat gluten.
Kittens don't need as many carbs. It won't be so necessary for an optimal kitten food to contain brown rice or any grain for that matter.
As potential allergens we have egg product and wheat gluten, again.
The food is also rich in fiber, antioxidants and minerals, and a set of all-natural ingredients like we just named (a few).
The quality of the ingredients produced and the clinical formulation that Hill's science promises make everything work out in itself.
To work out what is good and what is bad in the product, let us take a look at the pros and cons of it:
2. Iams ProActive Health, Healthy Kitten, With Chicken
IAMS designed it especially for the kittens below year 1. The pack is made such that it can ensure an array of benefits such as a stronger immune system with their antioxidant blend, healthier digestion using beet pulp and probiotics, stronger bones with essential minerals, healthier vision, and optical health with Taurine and sharper rain with omega-3.
The analysis of their ingredients, yes you guessed it right, the first five is here:

Chicken

Ground Whole Grain Corn

Chicken By-Product Meal

Corn Gluten Meal and

Chicken Fat
With the first product, we were impressed. Since it contains real chicken, which starts off at number 1, means that there is a good amount of quality protein in the pack.
Then shifting to number 2 and our heads shook. The corn wasn't so necessary, neither was the by-product meal that came in next and after that, another meal, which is cornmeal.
As good as it was proving out to be, 2 meals and 1 by-product changed the game. Although they aren't so detestable. They don't do much except helping to give the kibbles a shape, but we would rather IAMS avoid it.
Again, there are some potential allergens on the list that could also upset the sensitive stomachs of some kittens. That includes the dried-egg products, salmon, and cornmeal, which too may prove to be a threat if they can not digest grains.  
The nutrition analysis also reveals that the food contains less than 35% protein and more carbs than would be preferred in a dry kitten food.
3. Purina ONE Healthy Kitten Formula Dry Kitten Food
This vet-recommended kitten food is prepared to bear the nutrient content of the cat mother's milk in mind and has been an imitation of that. It is supposed to promote the growth and energy of kittens and take that into their adult stage.
The ingredient analysis of the product reveals the following:
Chicken

Corn Gluten Meal

Brewers Rice

Poultry By-Product Meal

Soybean Meal
We know that the ingredients present in the list at the top or around are present in the most abundance.
Hence the top five should mean what is mostly present in the pack. The first ingredient as shown is chicken. There is a good source of protein here.
Again, the next ingredients show what is present in lesser and lesser amounts. We have 3 types of meals and rice as the next.
The use of so many meals to increase the bulk is something we didn't like. Although they aren't necessary, they are of use, but using all three of them was a little over the top.
About the by-product meal, Purina clarified that they use the safest internal organs in the making of this by-product, we can assume that it is only safe. 
Lastly, in the form of allergens, there is fish meal and whole grain corn which could prove to be a potential threat to the digestive health and stomach sensitivity of some kittens.
This is also another food that is quite reputable in the industry, and something that lasts you super long. We have some good sides to balance off what we did not like as yet.
Also, it has a uniquely crunchy texture that works to improve the teeth of your kitten and clean as it improves.
4. Instinct Original Kitten Grain-Free Recipe Natural Cat Food
The information as given by Instinct kitten food themselves says that in their product real animal-based ingredients are present as more than 80% and vegetables, fruits, etc ingredients are present less than 20%.
What is absolutely stunning about their food is that they are the first ones who promote and sell kibbles coated in freeze-dried and raw for maximum health and nutritional benefits.
Another thing is that the meat used in the product comes from cage-free chicken and is made in the US.
Let us analyze their ingredients now:
Chicken

Turkey Meal

Menhaden Fish Meal

Peas

Chicken Fat
As you may have seen, all of the food here contains chicken as number one, and so does this one. We have a good check on the protein.
This is the first food that has a hint of vegetables in the top five, in this case, pea being the ingredient in question. Also, we have two different types of meals, adding to the nutrition of the product.
There is no such thing as a bulk-adding product here, so we are glad. The third ingredient can prove to be a cause of dismay for cats allergic to seafood.
Let us take a look at the good and bad sides, overall:
5. Blue Buffalo Wilderness High Protein Grain Free, Natural Kitten Dry Cat Food, Chicken
As the system of ingredient analysis goes, we will first take a close look at what is present as the first five in the ingredient list: 

Deboned Chicken

Chicken Meal

Turkey Meal

Tapioca Starch

Chicken Fat
This is the main reason we have listed this kitten food as the first one on the list.
It is simply the very best.
We know, the first five ingredients say what is going on and who are present the most in the pack. The five of them here are majority sources of protein.
The idea that we absolutely love, is the presence of deboned, real chicken in it as the number one ingredient. This means that the food is rich in quality protein, if not anything.
However, we wished there was no starch present. Because it is not that necessary and only acts as a bulk-producing ingredient.
Lastly, the presence of fish oils could prove to be a potential allergen for kittens that are allergic to seafood.
Moving on, the nutrition analysis reveals that the food is free from the by-products of poultry, adding more to it, there is no artificial color, flavor, etc here.
The absence of which also makes it worthy of buying includes: soy, corn, and wheat. Grain-free!
Also enveloping all of this goodness, there are Life Source Bits from Blue Wilderness, which means they prepare their kitten food in a manner that maintains the level of nutrition of the food without compromising them as they are being cooked.
How to choose the best dry kitten food
It can be challenging to find the best dry kitten food if you don't know what to look for. Outside this list of ours, if you are aware of the following, you can select a dry kitten food of your choice after doing your own research:
1. Get an appointment with your kitten's vet or any vet in general if this is your first time going to one.
Tell him the details of your kitten's health, age, etc. Better if you can carry it along. Tell him to recommend, say, 2-3 dry kitten food.
In this manner, you can switch between brands. Even if your kitten likes the first brand you try on it, do switch the food; it helps him to intake a good range of nutrition from different manufacturers.
2. The nutrition content in the food that you want to buy should have at least 30% more proteins than the ones contained in adult dry cat food.
Tryptophan, Lysine, and Taurine should be present being important essential amino acids.
Omega fatty acids from DHA, phosphorous, magnesium, zinc, calcium, iron, selenium, vitamins A and E, and a significantly high moisture level must also be present among dry kitten foods.
3. An ideal dry kitten food should be higher on protein than on fat.
4. Kittens have food-related allergies more than puppies, to be sure to check ALL the ingredients on the list.
5. An AAFCO statement should verify the ability of the nutrients to initiate kitten growth. Check for such a statement when buying. 
How to feed your kitten with dry food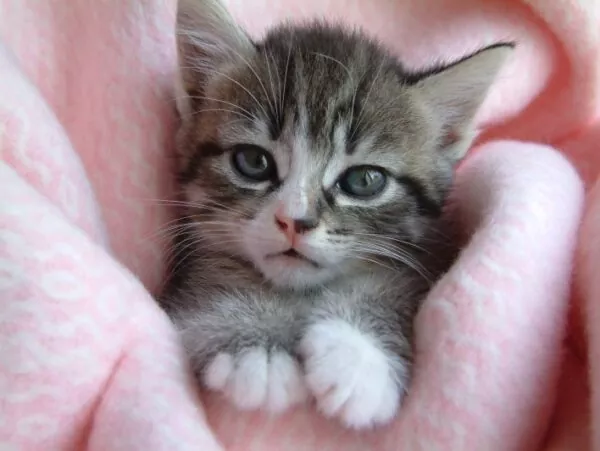 Here's something you may find helpful when feeding your kittens:
1. Whether or not it is able to much on the dry kibbles, to help them chew it properly and help in digestion, you can wet the kibbles, by mixing it with water or broth, if your kitten likes it.
This also works in increasing the moisture content of the food.  You are working on the thirst mitigation of your kitten without crying out loud why it just won't drink more water. Bye-bye UTIs!
2. If the kibbles are big and moistening with water becomes harder, break them into smaller pieces. Help the little teeth of your kitty by using your hands to work on the food.
3. Suppose your kitten feeds on an older food, and after reading this review, you wish to purchase one of these. Do not mix both the food.
This will put your kitten off from both. Now that's a good load of wastage!
What you can do instead, and what you should do, is to proportion the food. Slowly increase the content of the new one and decrease the older one.
It should take under 2 weeks to have your kitten convinced if the taste and smell of the new food are good enough.
4. Try free-feeding kittens. They need all that nutrition to help them grow. But don't overdo it.
Due to their low drive for drinking, kittens will not drink as much as you would want them to.
To feed them with dry kibbles means an added responsibility on you: to ensure that they drink more water to digest that food and meet their daily hydration level.
Be sure to make clean water available for kittens to drink 24/7.
Also, there are some foods that you should make sure your kitten doesn't come across.
The presence of any of these in one form or another might turn your kitten's food into the worst kitten food.
They include:
rendering products

coloring dyes

carrageenan and artificial preservatives which some cat foods unfortunately contain

chocolate and dairy (if you are sure it is lactose intolerant) 

caffeine and alcohol

onion and garlic

grapes.
This might prove toxic to some of the kittens, so make sure to not give to them to find out if they are.
We'd like to like that you liked this article on the best dry kitten food!
If you did, be sure to buy one from the products that we presented in our recommendations, and if they did not please you as much, we still would urge you to follow the to-dos and words of advice that we tried to give.
If you follow them you should be able to purchase your own best dry kitten food. Hope your kitten likes it!
As an Amazon Associate, I earn from qualified purchases. www.bestcatfoodreviews.com  is a participant in the Amazon Services LLC Associates Program, an affiliate advertising program designed to provide a means for sites to earn advertising fees by advertising and linking to Amazon.com.