Traveling with a cat can be a nightmare for most cat parents. Felines are unlike dogs and are not very accustomed to changes in their surroundings, making it very difficult for them to get used to traveling. 
You will need to ease your cats into traveling. It is easier to get them used to it if you start small and give them the time and place to acclimatize to the distance.
Be it a car, a plane, or a train, traveling with your cat is not going to be as easy as you might have thought. 
You need to start preparing if you want to venture out into the world and bring your cat along. There are ways to get your cats to start liking traveling with you, but you will need to put in a lot of time and effort. 
So, continue reading to learn more about how you can  travel with a cat!
Know What You are Dealing with
Traveling with pets is never easy – this is especially true if you are traveling with a cat. That is because cats are essentially homebodies. Even the slightest changes in their environments could stress them out. 
Here are a few reasons why traveling with cats is considered a tough task. 
1. Cats Get Anxious Very Easily 
Anxiety in pets is very common. However, healthy and happy cats who have never felt anxious before can feel burdened with anxiety while traveling.
Cats need time to adjust to their surroundings, and moving to a new house or staying in a hotel room could trigger your cat's anxiety. 
2. Carrying a Litterbox Around is Logistically Not Possible 
If you are traveling in a car, one of the biggest challenges is carrying a litter box around.
Cats are very hygienic and will not do their business in places they are not supposed to. 
If your cat is trained to use a litterbox, chances are they will hold it in until their surroundings are safe again.
However, this could result in urinary tract infection, so it is very important to make sure you have arrangements to allow your cat to relieve themselves. 
3. Cats Can Fall Sick When They are Stressed 
Stress, travel, and cats do not go well with each other. Most cats do not deal well with stressful environments. Stress in cats can manifest as physical ailments too.
Traveling can make cats sick, especially to their stomachs! 
Such issues generally stop cat owners from taking their cats with them when they travel. However, all cats are unique.
You might have a pet that has an innate wanderlust, or your cat could be a complete homebody! 
Make sure you understand your cat and come up with travel plans that best suit your cat.
In case you feel your cat is not fit to travel, you can always hire cat sitters to look after your pet while you are away!
Do Your Travel Prep First
The first thing you need to do is make your travel preparations first. Make a comprehensive list of things you will need to carry with you when en route. These essentials might vary depending on the mode of your travel. 
However, here are a few common items that you must carry with you irrespective of how you travel. 
Make Pet-Friendly Travel Arrangements
Taking your cat on vacation will require you to make a ton of special arrangements.
These travel arrangements need to be made beforehand so that you can travel smoothly without any obstructions. 
If you are traveling by plane, you will need to contact the airline and consult with them regarding your traveling arrangements.
Communicate your requirements and see how they can help you with your commute. 
If you plan to take a road trip with your cat, you can set up the car and map out all the pitstops you will be making.
Additionally, you can also look for cat-friendly hotels on the way in case it is an overnight journey and you need to rest!
How Do You Travel With A Cat On A Plane
If you are traveling from one side of the country to another or taking a vacation abroad, traveling by plane is your best option.
It is time-efficient, and there are many provisions made to ensure comfortable traveling for your cat. 
If you want to make security checks easier, you must contact the airport before your arrival and reach way before time.
That might help you speed up the security process as they will let you through a special security check. 
In such checks, you can keep your cat inside the carriage as it passes through security.
On the other hand, if you are late for check-in, you will be asked to hold your cat while the carriage is put through the x-ray machine.
It can be quite overwhelming for your pet, and they might become aggressive. 
While most cats have no trouble quietly sitting in their carriage in an airplane, you can take measures to make their experience even more suitable.
For instance, you can periodically give them water to keep them hydrated inside the carriage. You can also keep a few ice cubes in their bowls to avoid unnecessary spillage!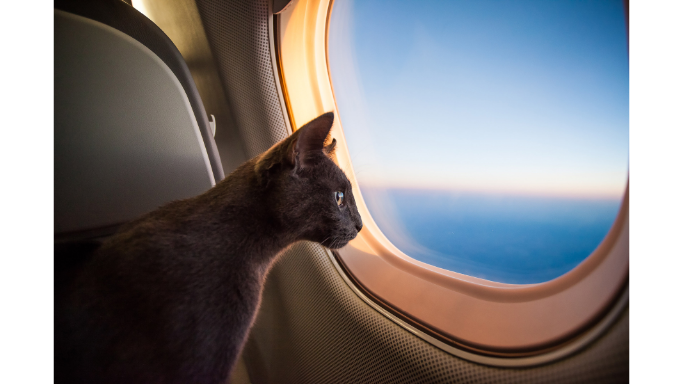 US Air Carriers' Pet Policy 
Another important thing that you must take note of is travel policies. Every airline will have a specific set of travel policies that you will need to follow.
These policies could be subject to change given the turbulent travel conditions we have experienced over the last year. 
Here are a few airlines and their pet policies to help you get started. 
American Airlines – Cats need to be placed in carries, and you can keep them with you in the coach as carry-on. Cats under eight weeks old are not allowed to board. Additionally, brachycephalic cats are not permitted to travel either. 
Delta Airlines – Special reservations are essential if you need to travel with your cat inside the United States. You can do this by calling ahead and informing the airline. Moreover, you will be charged $125 or $200 as a checked pet fee before every flight you take. 
Frontier Airlines – $99 pet fee will be charged, and you will need to keep your cat with you as a carry-on. Make sure your carrier is big enough for your cat so that it can sit comfortably.
JetBlue – JetBlue will charge you $125 as a pet fee for a one-way journey. You are allowed to carry only one pet per customer with this airline. The net weight of your pet and its carrier needs to be under 20 pounds, and the carrier needs to be secure enough to keep your cat safe inside the plane. 
Southwest Airlines – You need to contact the airline before your travels to book and reserve space for your cat because there are only six spots for pets on every flight. You will be charged a one-way pet fee of $95. Your cat will need to stay with you in the cabin, secured in its carrier throughout the flight. 
Spirit Airlines – A single carrier cannot contain more than two cats while traveling with Spirit Airlines. Additionally, the weight of the carrier, along with your pet, cannot exceed a total of 40 pounds. Moreover, you also need to carry proof of vaccination against rabies for your pet along with you.

How to Ensure Safety During Plane Travel for Cats
Make plane traveling safer for your cat by taking preventive measures. Here's what you can do to make the plane ride safe and more comfortable for your cat!
Keep a check on your cat during the flight and if you feel like something is wrong with them, take them to the vet immediately upon landing. 

Make sure your cat's nails are clipped and filed so that they do not end up snagging anything. 

Have ID photos and essential documentation at all times. That will come in handy in case your cat gets lost, and you need proof of identification. 

Add a travel label with your contact number and address on the carrier to make things easier.

Do not give your cats any unnecessary medication. You can give them mild tranquilizers only if the vet has prescribed them. 

Communicate to the cabin crew that you will be boarding with a cat so that they can make any arrangements needed beforehand. 

If possible, try to fly before or after holidays and peak days so that you successfully avoid the rush at the airport.
How Do You Travel With A Cat In The Car
Traveling with a cat in the car is very easy if the distance you plan to cover will take less than six to seven hours.
You can keep your cat in a carrier for this duration without any trouble.
However, you must keep feeding them and giving them water while you check up on them frequently. 
You can line their carrier with anti-bacterial and highly absorbent padding to be comfortable during their trip, and your car doesn't get dirty either.
Make sure you have toys all set up for your cat inside their carriage to keep them busy through the journey. 
Attach a harness to your cat if you plan on getting them out of their carrier. The harness will help you keep your cat secure inside the car.
Most cats can get jumpy when they are in moving vehicles, resulting in them wanting to jump out through the windows. 
With a harness attached to your cat for safety, you can roll down the windows to a safe limit as you cruise through your route.
You can train your cat before traveling a long distance by taking them out for short drives. 
See how they react to the movement inside the car and the noise from the traffic. You can then ease them into traveling by gradually increasing this distance!

How to Ensure Safety During Car Travel for Cats
Here's what you can do to ensure your cat's safety inside the car while traveling. 
Have a

travel bag

ready for your cat with food, water, a litterbox suitable for the road, essential travel documents, ID proof, and photos. 
Make sure the carrier is comfortable for your cat and is well-ventilated so that there is enough airflow. 

Always stay present in the car with your pet. Don't vacate the vehicle without bringing your cat along. 

Make sure the harness isn't too loose or too tight. It should be just the right fit for your cat to move around in the car. 

Secure the carrier properly before you set out on the journey. Make sure the carrier fits well on the backseat and doesn't move around too much when you are on the road. 

Clip your cat's nails so that they do not scratch up your car from the inside. 
Traveling with a Cat for a Long Distance
If you are traveling with a cat for a long distance, make sure you have everything ready for your cat to be comfortable during their travel.
Carry a travel bag with food, water, litterbox, medication, and documents for safety. 
Additionally, if your cat is old, you must consult with your vet if they are fit to travel before you take them anywhere.
If the vet gives you the green signal, you can take your cat anywhere you like. Moreover, consult with the vet in case you need to carry any specific medication or not.
Best Hotels You Can Stay at with Your Cat
These are the best hotels and motels you can stay at with your cat while traveling around. 
La Quinta Inns:

You can bring your cat to these Inns for free as long as you have a litter box for them and as long as you put a leash on them whenever you take them out. 

Loews Hotels:

You can stay with your pet here for $25 a day, but you cannot have more than two cats in a room.

Motel 6:

As long as you keep your pet on a leash during your stay here, you should have no trouble staying with your pet at motel 6.
The next time you want to travel with your cats, make sure you follow the tips mentioned above.
While it may seem like a monumental task if your cats are too young and have never traveled before if you play your cards right, they will adapt to these changes rapidly, and traveling with a cat will become easier.
As an Amazon Associate, I earn from qualified purchases. www.bestcatfoodreviews.com  is a participant in the Amazon Services LLC Associates Program, an affiliate advertising program designed to provide a means for sites to earn advertising fees by advertising and linking to Amazon.com.