Someone said that cat has nine lives. That may be true or not. But, your newly brought kitten can have a lengthy and healthy life with proper attention and care.
The experience of bringing a cat home can be amusing and overwhelming at a time.  
From buying cat accessories to making a new space for the cat, there are a lot associated with it. Your cat may be scared and chaotic during this transition.
Also, as a beginner kitten owner, you possibly have a whole lot of questions in mind. 
How to take care of cats for beginners?
How to keep her healthy, playful, and happy?
And so on.
Well, we must say your little kitten is lucky to have a caring owner like you. When it comes to taking care of cats 101, the philosophy is similar to raising children.
If you trained them correctly, it'd help them grow as a well-adjusted adult.
The cat shows more maturity than other pets, and they require low-maintenance.
If you've recently adopted a kitten, you must know how to take care of a cat for the first time.
Here we've incorporated a guide with cat care tips to ease your job. 
Supplies for Your Little Furry friend
Let's start at the very beginning. The preparation to take care of your cat should be done before bringing her/him home. You have to be ready with the necessary supplies while welcoming your kitten.
Make sure you got everything that your cat requires to be healthy and happy.
Before you pledge to adopt a cat, bring the following supplies for your kitten:
Prepare a Room for Your Cat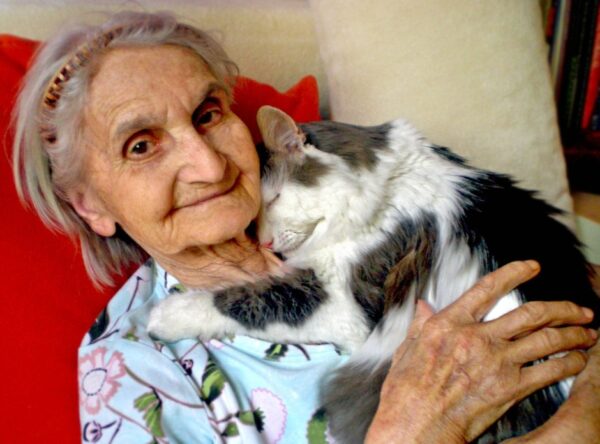 As a new family member, your cat demands space in your home. It is better to give them a quiet room so that they can get adjusted with the smell and sound of the new house.
If you have a large apartment, prepare a room for your cat. 
Otherwise, you can choose any corners that are safe and noise-free. In the first few days, provide their necessary thing in the room/space.
After some days, you can leave the door open. They have become more confident by now. So, let your cat explore the whole place.
Expert Tips: It is better to provide a quiet room for your new kitten. The quiet place helps them to become confident, while gathering can make them overwhelmed.
Provide the Cat Supplies
You have brought a litter box, now pour it with fine grain or clumping litter. Fill it with a depth of about 1-2 inches.
Place the litter in a place where your cat can get easy access. Don't put it in a crowded place.
Note that, new kitten requires some privacy.
Provide Food and Water in the Bowl
When your cat first enters your home, he/she might be hungry. It is essential to provide some fresh food and water.
Make your little feline comfortable, so they take food. Don't force them to eat, and you must provide food according to their age. 
Expert Tips: Make sure to change the water every day, so your cat gets clean water. 
It is the best way to become a friend of your new kitten. Cats are lively, and they love to play.
Give them some exciting toys, like a ball, wands, catnip toys, and food dispensing toys.
Try to have varieties of toys and keep options for them. Playtime makes them stimulated, happy, and active.
Cats are apathetic; they tend to sleep in random places. Mostly you'll see them interested in sleeping in the laundry hamper or on the windowsill.
You should encourage your kitten to sleep in a specific and comfortable place.
Arrange your cat's bed with some exclusive bedding. Place a cat blanket so they can sleep comfortably. 
Expert's Tips: Try to set up the bed in a rarely used furniture, a shelf, a basket, or near the window. You should wash the bedding more often. It keeps the bed free of fleas or ticks infection. 
Cats do scratch for several reasons. 
To take away the outer layer of their claws 

To mark their territory with visual marks and scent

To stretch their body.

To activate their feet. 
So, you'll need a scratch station to prevent them from scratching your furniture.
Place a scratch station besides your furniture. Cut their nails every 2-3 weeks to make sure their nails are very sharp. 
How to Take Care of Cats for beginners?
Thus far, all that was your cat's house-training session. Your cat got all the necessary things for their living.
It's time to give them extra-care for a healthy and happy life.
Below we've included a few cat care tips; take a look.
Feed Them Healthy Food
To every new cat owner, the personalities may be the same, but your cat's necessity is different. So, they need food according to their age.
The food has a massive impact on the cat's overall health; thus, you need to feed them nutritious food. 
You can follow their prior meal that the cat was eating till now. If you find it less nutritious, make a slow transition to food that you'll feed your kitten.
There is lots of healthy food available in the market for the kitten, adults, and mature cats.
If your cat is overweight, you can try the best diet food for overweight indoor cats. Also, there are separate dry, canned, and treats available. Go with the taste of your cat. 
Expert's Tips: Do not provide food with fillers, by-products, and artificial flavor. Buy a small pouch or can until you confirm that your cat likes it.  
How Much Should I Feed?
Well, it depends on your cat's weight and age. It is better to feed them partially throughout the day instead of free feeding.
Free feeding can make your cat overweight, and this may result in many health issues. 
So, develop a feeding schedule. We are giving you an example for your better understanding.
Feed a kitten (3-6 months) three times a day.

Feed a kitten (6-12 weeks) four times a day.

Feed an adult cat one large and 2-3 smaller meals in a day. 

Give them a few treats as a midday snack. Do not provide a lot as it will make them overweight. 
Visit a Veterinarian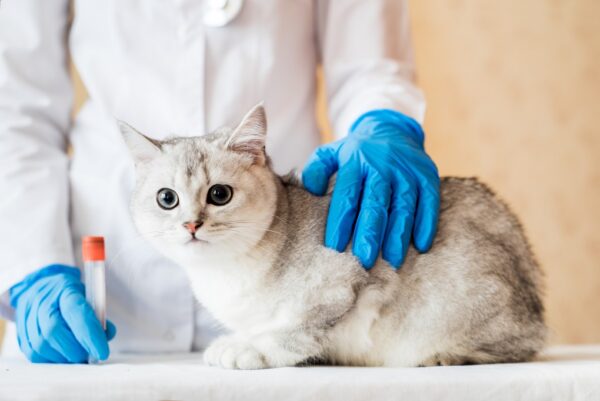 When you first bring your cat home, it is essential to visit a veterinarian as early as possible. This is just to be sure your cat is in good health.
Also, the veterinarian can give your cat the necessary vaccines. They can suggest any further medication if needed. 
Ask your vet about neutering if your cat has neutered or not. Note that neutering is essential to your kitten's health.
The veterinarian can also help you with flea and tick removal suggestions. 
Maintain a Brushing Routine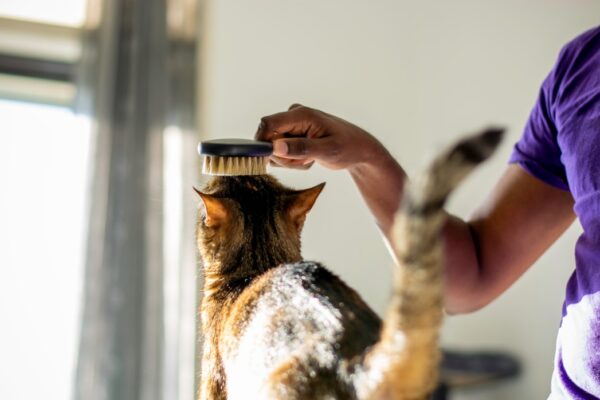 Brushing is necessary to remove dirt and dead hair. It helps to keep their skin healthy and also relaxes them.
Also, it helps to prevent matting. Maintain a brushing routine according to their hair. 
If your cat has short or medium hair, brush it once a week.
Likewise, long hair needs to brush two to three times or more a week.
You can use a regular brush that you use. There are also cat brushes with metallic bristles that work if the cat sheds a lot.
Keep their Supplies Clean
As a responsible cat owner, you must keep your cat's supplies clean.
Scoop their litter box every day and remove their latrine waste.
Try to give it a deep cleaning once a week and discard all the old clumping.
Also, disinfect your cat's bed and toys.
Bathe Your Kitten- How often to bathe?
You are lucky if you adopt a cat who maintains cleanliness. If your cat does not go outside and keep themselves clean, it is enough to bathe them one or two times a year. 
Expert tips:
Use an organic and gentle shampoo that is made for cats. Avoid using shampoo with flea treatment as it may have an adverse reaction on your cat.

Use a soft towel to dry them.

Once your cat is fully dry, brushing can give them a good time.
Enjoy Playing With Your Cat
Cat loves to play. Playtime makes them happy, fit, and confident.
Engage them with some toys and play with them. It boosts your bond with your loving cat.
Schedule at least 10-15 minutes of playtime every day.
Use Cat Carrier while Moving
You may need to take your cat to the veterinarian or relative's house.
Usually, cats don't like traveling.
A cat carrier comes handy in such situations. It makes your cat feel safe.
Keep a towel inside the cat carrier to make your cat feel more comfortable. 
Socialize Your Cat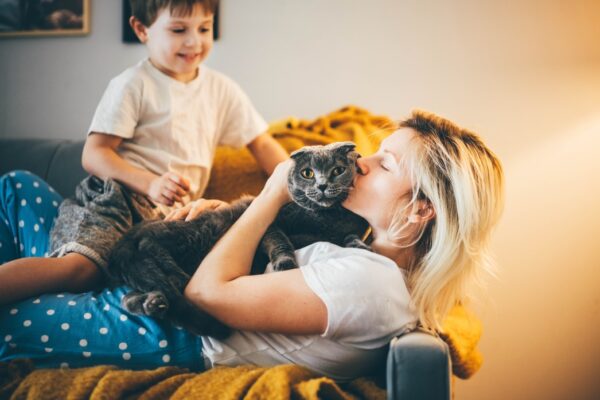 Socialization during the first few days helps them interact with your cat with other people.
Reward them for their excellent behavior and give them treatment for their well-doing.
Similarly, discourage their bad practices. 
You can try Scat mats whenever you see your cat exploring forbidden places.
It helps your cat to learn some manners.
Do not punish them or throw any solid things at the cat. It may harm them physically and mentally. 
Keep Them Inside Your Cat-safe Home
Cats are delicate breeds. Outdoor is not a safe place for your cat as it'll expose them to parasites and diseases. So, keep your cat inside and don't allow it to go outside. 
Make sure your home doesn't have anything harmful to your cat.
Teach your family members to behave nicely with your cat. Cats deserve love, respect, and care, give them so. 
Conclusion 
Every cat is different. Don't impose your habits on your cat, instead train them as they are.
Consider your cat's particular needs and make them comfortable to the fullest. And, this is how to take care of cats for beginners. 
Follow all the cat care tips on feeding, grooming, and overall health. Only then your new furry friend can bring joy to your home with cuddling and growling.
You'll like to know:
As an Amazon Associate, I earn from qualified purchases. www.bestcatfoodreviews.com  is a participant in the Amazon Services LLC Associates Program, an affiliate advertising program designed to provide a means for sites to earn advertising fees by advertising and linking to Amazon.com.