Cat is a free entertainment that you get around you all the time. To keep them active and energetic, you must ensure the best food for them.
Are you doing so? If no, don't worry since ZiwiPeak is here to take care of your little feline.
Ever heard of the name ZiwiPeak? If no, you are not alone in the queue.
ZiwiPeak is still an emerging cat food manufacturer in the United States.
Do you want to know why ZiwiPeak is a high-quality choice for your cat?
You must follow our ZiwiPeak Cat Food Reviews to get the answer.
Here we'll review some of our top picks and discuss more ZiwiPeak.
"Born of love, Crafted with goodness." This is what ZiwiPeak believes.
When it comes to pleasing the lives of your cat, they think of happiness and joy. They deliver what you expect.
Let's find out why ZiwiPeak cat food is a healthy option for your cat.
Wondering which ZiwiPeak cat food is best for your cat?
After researching for several hours and taking feedback from most pet owners, we picked the two best recipes.
We have checked the nutrition and food value of these foods.
Here are our top ZiwiPeak Cat Food Reviews.
1. ZiwiPeak Air-Dried Cat Recipe
ZiwiPeak air-dried cat food is made for those cats who have protein allergies or sensitivities.
Your cat will definitely like this protein-rich formula. Besides, the recipe is naturally prepared to ensure proper nutritional quality and integrity. 
What does it contain?
First and foremost, this recipe includes 98% fresh meat, organs, and bones.
The animal organ used in this recipe ensures a high-protein and high-fat ratio providing vital nutrients.
Besides, it is enhanced by the addition of 3% green mussels.
These green mussels have natural sources of chondroitin and glucosamine that support joint health and mobility.
Also, the recipe adds kelp as a vitamin and mineral source that helps in their healthy diet.
As the formula has high-protein, so it's an excellent indispensable diet for cats of all ages.
Moreover, it contains well-balanced fatty acids for the nutrition of your cat's healthy skin.
This recipe is 95% digestible, it's the right choice for cats with gastrointestinal problems.
Furthermore, this air-dried cat food doesn't contain grains, corn, wheat, and others.
It is also free of preservatives. ZiwiPeak air-dried cat food contains 34% crude protein, 1.5% crude fat, 25% crude fat, and 15% moisture.
Our Feedback: Overall, we must say ZiwiPeak air-dried cat food is a must-have for your cat. Your cat can get 264calories/cup from this air-dried food. Indeed, it's a reliable and complete recipe for cats of all stages.
2. ZiwiPeak Grain-Free Canned Cat Food Recipe
Your cat deserves food that their fellow cats are following for several centuries.
ZiwiPeak canned cat food is manufactured by keeping this in mind.
This recipe is rich in protein, healthy fats, and supplemented with natural nutrients.
What does it contain?
The primary protein source in this recipe is lamb's meat and organs. The organs include the lamb liver, meat, tripe, kidney, heart, and lung.
Besides, these ingredients are added to fill your cat's nutritional needs.
The lamb used here is free of antibiotics and hormones!
The formula includes 3% New Zealand green mussels, which are sources of chondroitin and glucosamine.
It supports the joint health and movement of your loving cat. It also contains chickpeas, minerals, taurine, and vitamins to assist in their digestion. The minerals help in the urinary health of your cat.
In the recipe, dried kelp is added as additional fiber. Likewise, agar acts as a supplementary source of protein and thickens the formula.
The formula is made in a chunky loaf style to attract your kitten.
Moreover, ZiwiPeak canned cat food can entice even the choosiest cat with a high level of protein and moisture.
This is also free of grains, corn, sugars, glycerin, rendered meals, and preservatives.
It contains 8% crude protein, 1% crude fiber, 5.5% crude fat, 78% moisture, and 3% ash.
Our Feedback: This lamb meat-based canned cat food is formulated to follow the nutrition levels of cats of all life stages. It has 186kcal per 170gcan, so feed according to their age.
History of ZiwiPeak Cat Food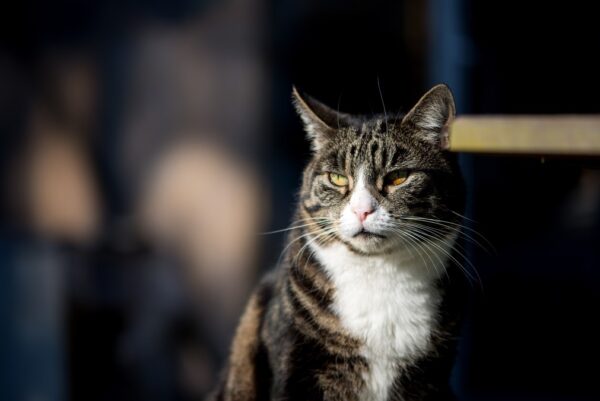 ZiwiPeak is a New Zealand-based company well known for its pet foods.
Kimberly and Peter Mitchell established the brand in 2004. Before developing ZiwiPeak, Peter used to work in a different part of the meat industry.
After experiencing a lot in the meat industry, they realize the demand for meat pet food.
Mitchell later develops an air-drying system to recover waste meat.
Thus, they succeed to export meats which you get now as ZiwiPeak air-dried cat food.
Sources of ZiwiPeak Cat Foods
The ingredient of ZiwiPeak cat foods comes from ecological New Zealand farms and ranches.
Their only source is green and free-range farms and the Blue Ocean of New Zealand. All their meat ingredients sourced from grass-fed cows, deer, and sheep meat.
Moreover, the fish ingredient is gathered from sustainably-managed fisheries of the Southern ocean.
All these ingredients are human-grade.
Besides, all their air-dried foods are made in New Zealand, but most of their canned food is made in the U.S. or Canada.
ZiwiPeak offers only natural foods and never puts any antibiotics in their diet.
Why Is ZiwiPeak Made In New Zealand?
ZiwiPeak claims that they can raise their meat sustainably due to New Zealand's warm climate.
Also, it's an island-based nation along with strict laws. Their bio-security protects animals from infectious diseases.
The sources of cat food in New Zealand are free from West Nile Virus, BSE, chronic wasting, and rabies.
What Kind Of Cat Food ZiwiPeak Offers?
If we mainly talk about their cat food line, ZiwiPeak offers two types of cat food.
One is ZiwiPeak canned cat food, and the other is ZiwiPeak air-dried cat food. They have a variety of recipes for both dry and wet food.
You'll find more about them in several ZiwiPeak wet cat food reviews and ZiwiPeak dry cat food reviews.
ZiwiPeak Air Dried Cat Food
ZiwiPeak brings a modern and refined twist on the old technique of preserving meat naturally.
Their air-drying process removes pathogenic bacteria like listeria and salmonella by guarding nutrients.
ZiwiPeak offers five recipes of air-dried cat food. 
Their dry foods are made using the twin-stage dehydration process. That's why this food contains low carbohydrates, which is suitable for the cat's diet.
ZiwiPeak air-dried recipes contain 96% meat, bone, and organ. It also includes a 7% species-specific tripe for enhanced palatability.
Also, this food has 3% green mussel for natural glucosamine. All their recipes contain high protein and kilocalories. 
You will like these foods as it doesn't contain grains, potatoes, wheat, corn, soy, sugar, and glycerin. Some of their air-dried cat foods are;
In their wet cat food section, ZiwiPeak includes a variety of canned cat food recipes.
These recipes feature high inclusion and the constant ratio of organs, bones, and meat.
Their canned foods are free from grains, preservatives, and artificial binders. It retains taste even without these.
ZiwiPeak canned cat food includes 92% meat, bone, and organ along with 7% species-specific tripe and 3% green-lipped mussel.
Along with meat and seafood, it also contains plenty of minerals, vitamins, chickpeas, and amino acids. Some of their best-canned cat foods are;
Are there any ZiwiPeak Cat Food Recall happened?
New Zealand is considered the cleanest and safest place in the world for manufacturing pet food.
Luckily, ZiwiPeak is a New Zealand-based company. They follow some strict rules and maintain quality while producing foods.
All these things make them an excellent manufacturer.
You will be surprised for sure that ZiwiPeak has never experienced any recall yet!
 Hopefully, ZiwiPeak cat food recall will never happen if they retain this quality.
Overall, ZiwiPeak is committed to providing quality as they use only high-quality ingredients.
From sustainable seafood to grass-fed meats, your little feline can enjoy the real taste of New Zealand.
Cats reflect what they eat, so make them feed the best food.
With their childishness and silly face, they can make your mood better. Your cat surely deserves the nutrition and natural flavor of ZiwiPeak cat foods.
Now it's your turn to change their mood.
Hopefully, now you know from our ZiwiPeak cat food reviews that ZiwiPeak is the best.