Why do cats groom each other? A common question asked by many pet owners.
However, the answer might surprise you. Many cat owners think it is their way to display affection. Well, it is somewhat true, but this is not the only reason. 
Cats groom each other to express their social solidity among a group of cats. It is their way of showing social bonding.
Scientists mention this behavior as social grooming or allogrooming. 
However, grooming by themselves helps to make a strong bond between each other. They groom each other as an act of affection or protection.
Perhaps, that is the reason mother cats groom their newborn kittens. 
Let's explore the different reasons why they groom each other.
Why Do Cats Take Part in Allogrooming?
The social grooming between two cats from the same species is termed as allogrooming. Not only cats participate in allogrooming, but also other species, including birds, primates, and even insects, groom each other. 
In 1988, a study conducted by researchers on grooming connections between around 83 domestic cats.
According to the study, allogrooming is focused on the neck and head area of the cats. The study also found that;
When two cats participate in allogrooming, one cat contributes most to the grooming. 

Usually, confident and dominant cats groom others.

If so many pairs of cats live in the same space, there will be less aggressive behavior between cats. 

Why Do Cats Groom Each Other?
After all these observations, cat specialists have narrowed down a few reasons on why they groom each other. Some of these reasons are discussed below;
When cats share a close bond, they groom each other to show affection. The sibling cats or they might have been together for a long.
As a part of grooming, they wash other's heads, neck, ears, and other vulnerable regions. 
Cats allow others to get that much closer when they really trust someone. Sometimes you will find them washing you because they treat you as a trusted member.
They lick other members in the group to transfer their smell to other members of the family. 
Mother cats clean her newborn kitten to clean all the blood associated with birth.
The kitten needs to smell like their mother. So, they can be identified, fed, protected, and rescued from harm.  
Also, the mother cats clean the abdominal and anal areas after feeding.
It inspires the newborn kitten to remove waste. The kitten also learns how to groom themselves. 
Most of the time, the dominant cats in the group groom the non-dominant cats. The dominant cat reinforces his power in the hierarchy.
Sometimes, the non-dominant cats approach the dominant cat for allogrooming. They flex their neck; expose the back of his neck or top of his head.
Do I Need to Groom My Cats?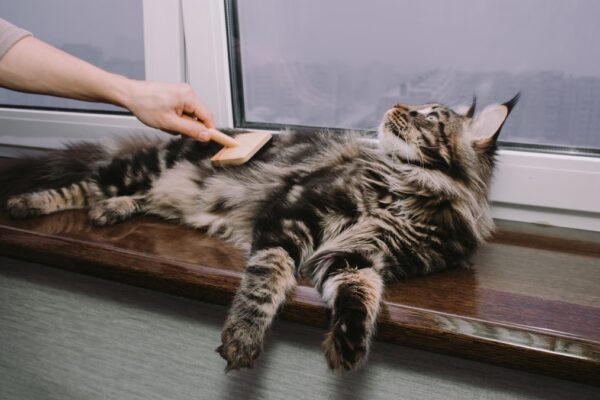 Though they groom themselves in the group, still sometimes you need to look after them. Especially cats with long hair require daily brushing.
It would help if you combed a cat with shorter hair a few times a week. 
Then, an older or ill cat requires daily grooming as they are little interested in cleaning themselves.
If the car gets dirty, bathe them in lukewarm water with cat shampoo. 
Conclusion
And, these are the possible reasons for why do cats groom each other.
It's all about being a part of the family.
Cats are the easiest pet to have as they require little maintenance.
They do half of their maintenance job themselves. So you can enjoy their company without worrying.
Popular posts:
As an Amazon Associate, I earn from qualified purchases. www.bestcatfoodreviews.com  is a participant in the Amazon Services LLC Associates Program, an affiliate advertising program designed to provide a means for sites to earn advertising fees by advertising and linking to Amazon.com.