What is common between Crookshanks from "Harry Potter" and Puss in Boots from "Shrek"?  Well, apart from being orange, they're both tabby cats. 
Before you commit the mistake of assuming tabby cats as a breed, let us stop you right there. Even cat fanciers are unaware that tabby cats are a reference to a particular coat pattern. 
The swirls of colour, different stripes, and uncommon spots are what demark a beautiful tabby cat. All thanks to genetics, tabby cats manage to make heads turn for their individuality wherever they go. 
These tabby cats are far from ordinary. Want to know why? Let's help you deepen your knowledge about tabby cats!
Bear this that tabby cats don't easily let themselves be crammed into a definition. When they hear "tabby cat," many people think they are another breed from the cat family. On the contrary, tabby is a term to refer to a specific coat pattern. 
You should know that tabby cats flaunt different colours and sizes and wear unique tabby patterns. However, you can categorize tabby cats based on their coat patterns. 
For instance, there are mackerel tabby cats with narrow and lengthy parallel strips. The mackerel tabby cats resemble a fish skeleton, and thus the name! 
Another intriguing fact about mackerel cats is that their pattern was an original tabby coloration. 
One of the most common tabby cats has the classic tabby coloration. To paint a better picture of classic tabby – these are wider stripes that curve to develop circular patterns. Three long stripes run from the shoulder up until the tail. 
A few cat-lovers compare classic tabby cats to a marble cake!
Refer to Christian folklore, and you'll come to know that a tabby cat dutifully turned up to comfort baby Jesus. On the other hand, you'll also hear stories that the 'M' marking refers to the word Mau, which is the Egyptian term for cats. 
Islamic legends also claim that Muezza, a tabby cat, saved Mohammed from a venomous snake.  As a result of this, all tabby cats received the 'M' as a reward. 
In a nutshell, the 'M' in the tabby coat is the storehouse of legends. 
As for the name 'tabby,' it is a widespread belief that it comes from a striped silk 'Attabi.' When this striped silk arrived in Britain, people noticed similarities between the so-called 'tiger cat' and Attabi silk.  Eventually, these tiger cats went ahead with the name 'tabby cat.' 
What Makes Tabby Cats Unique?
All breeds of cats have something unique to distinguish them from the others. The feature that gives the unique tag to these tabby cats is the amusing patterns that run across their coat. 
They have a mix-match of spots, swirls, and stripes. Based on the feline breed, the tabby coloration might cover the entire coat or be limited to patches. 
Although each tabby cat is unique, some markings are more common than others. Typically, you'll notice that stripes run through the cat's back, tail, legs, and face. 
But, what demarcates a tabby cat? 
Well, it is their M-shaped marks you can find on their forehead!
Conversely, the M-shaped mark is common in wild cats as well. You can identify jungle cats such as tigers, ocelots, and cheetahs with the 'M' marking.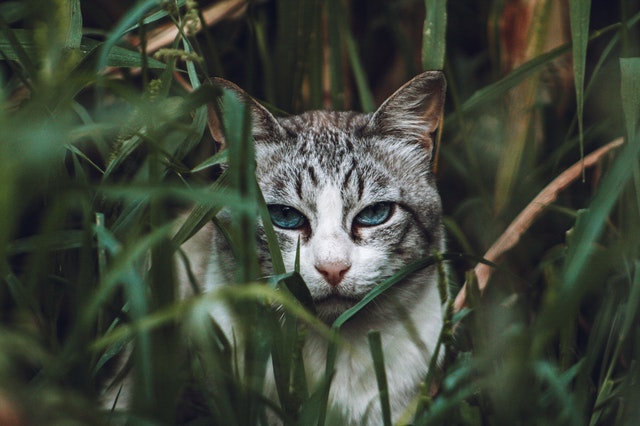 Different Appearances Of Tabby Cats
There are hundreds of combinations of tabby patterns. However, most tabby cats showcase stripes in their coats. The clarity, size, colour, subtleness, etc., will depend on the genetics of the tabby cat. 
There are tabby cats that display prominent stripes on their tail and legs. Other physical traits to identify a tabby cat are: 
Bandings on the tail and legs 

Slim pencil lines around the face 

Pigmented paws and lips 

Paler belly and chin as compared to the rest of their body 

Murky eyeliner around the eyes 

'M' marking on their forehead 
Note that it is not important that a tabby cat has all the above-mentioned physical traits. This fact reminds us that five varieties of tabby patterns exist: 
Classic Tabby Pattern 
The classic tabby coloration will have hints of deep-coloured swirls. These swirls will display a target kind of pattern on the feline's body. A few breeds sporting the classic tabby coloration will also have patches of colour. 
Though the tummy of such cats is paler, they sometimes have tabby markings. You'll also spot the 'M' on their forehead easily. 
Another nickname for these classic tabbies is "botched tabby." One of the most typical examples of the classic tabby breed is the American Shorthair. 
Mackerel Tabby Pattern 
A tabby featuring this pattern has parallel and narrow stripes that are visible along their body. You'll notice that the mackerel tabby pattern kitties have evenly-spaced stripes. Also, they branch away from a darker stripe that runs parallel to the cat's spine. 
Mackerel tabby patterned cats also have facial markings like classic tabbies. The synonyms for mackerel cats are tiger cat or striped tabby. 
They might even have dark bands of colours across their bellies that got them the nickname "vest buttons." Because of their striking resemblance to a fish skeleton, the nickname for this tabby pattern came to be "mackerel tabby."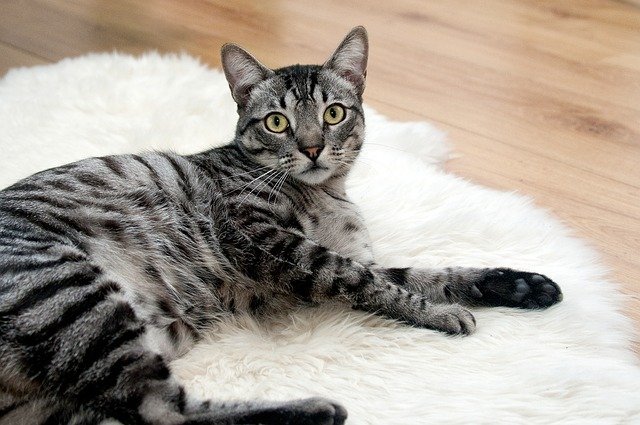 Ticked Tabby Pattern 
You won't find any typical spots or stripes on a ticked tabby cat. The only exceptions are a few stripes and spots around the tail and legs. 
These cats feature unique agouti hairs – these are hairs that have several layers of pigmentation. Generally, an agouti hair kitty has a darker base with lighter shades mixing with it. 
The agouti hairs are what cause the ticked pattern in cats. Instead of a clear appearance, a ticked tabby looks more like a salt-and-pepper combination. 
However, some tabbies display a ghost striping on the belly, lower legs, and face. If you spot a ticked pattern tabby, you'll notice that their coat gives a shimmering appearance in sunlight. 
Patched Tabby Pattern 
Patched tabbies typically do not have any well-defined markings or patterns. However, they sport a combination of patterns or colors. This type of tabby cat is generally a tortoiseshell or a calico cat. 
Tortoiseshell cats with tabby marks are also popularly known as "torbies." You may meet an orange tabby that shows different patterns but has white and orange overall coloration. 
Remember that not all tortoiseshell cats will have tabby coloration. However, those who do will have blotches of brown and red tabby markings. Also, these markings are more visible on their legs and faces than any other part of the body.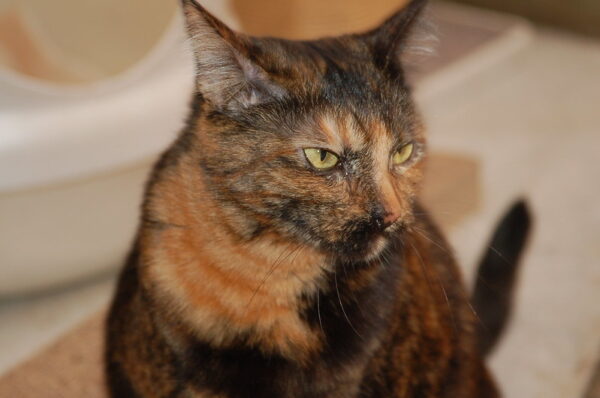 Spotted Tabby Pattern 
Spotted tabby cats will either have small or large spots around the sides of their body. These spots can be oval or circular. Also, the spots run throughout the body barring legs and chest. 
You'll also love the adorable classic tabby markings on their innocent faces. It is unclear if the spotted tabby pattern is a result of broken mackerel or unique genetics.
The two common breeds having spotted tabby patterns are American Bobtail and Ocicat. The Ocicat is a domestic breed that has a similar appearance to ocelots. 
Breeds That Exhibit Tabby Coloration
The list of breeds with the tabby-coloured coat is pretty long. Here are some of the most common ones every feline-lover should know: 
Javanese

Exotic Shorthair

Egyptian Mau

American Curl

American Bobtail

Abyssinian

Ocicat

Norwegian Forest Cat

Turkish Van

Turkish Angora

Somali

Siberian

Scottish Fold

Rex

Ragdoll

Persian

Oriental

Manx

Maine Coon

Birman

American Wirehair

American Shorthair
Let's talk about some tabby-coloured breeds in detail! 
Abyssinian Tabby 
An Abyssinian tabby is affectionate and friendly. You'll love them as house pets. The most lovable feature of Abyssinian tabbies is that they are never dull and always up for activities. 
You have to offer them plenty of mental stimulation and exercise to refrain from resorting to destructive behaviors. Exercise and play will also help this breed to beat boredom. 
Oriental 
The Oriental breed cats weigh about 8 to 12 pounds at maximum. The remarkable physical traits of this breed are their long slender legs and long slim face. 
The intelligence quotient of this breed is quite impressive. As a result, training the cats will be a smooth journey. Oriental cats are tender and warm breeds. Nothing makes them happier than spending a good time with their family. 
American Bobtails 
American Bobtails are notorious for being interactive. They make exceptionally amazing family members. You ought to love this cat's playful nature. 
The breed also loves good playtime with its owners. Despite their strong hunting instinct, these mousers gel well with human and animal counterparts. 
Small things can get the American Bobtail excited. Their temperaments are generally quiet. By and large, there are no behavioral issues with this tabby cat. 
Birman  
Birmans are large breeds that can grow as large as 12 pounds at maturity. These cats sport a sharp coat pattern. Some may display tabby points. 
Speaking of their characteristics, Birman tabby cats are not as friendly as other breeds. The breed maintains a reserved nature and tends to adopt a jealous disposition. The kitty bonds very closely with one or more members of their family. 
They are also a bit territorial while confronting other felines. The good news is that these kitties are not overly aggressive. 
Scottish Folds
You can spot a Scottish Fold by its small rounded ears hanging downward against its head. Another physical attribute of these cats is that they come in a variety of patterns and colors. This breed tends to have medium to long hair length. 
Regarding their personality, the Scottish Folds are lovable rascals. They are usually sweet-tempered cats and gel well with everyone. However, like Birmans, they may also develop a strong bond with one family member. 
All About Tabby Cat Genetics
Though the tabby cats are not any specific breed, all domestic felines include tabby genes. It is because of their origins that they trace back to tabby patterned wild cats. 
Also, the tabby color/pattern is a hallmark of direct ancestors of domestic cats, including: 
The African wildcat (Felis lybica)

The Asiatic wildat (Felix lybica ornata)

The European wildcat (Felis silvestris)
In reality, diverse is the exact word to use for the tabby gene. Tabby patterns range in countless varieties of coat colours and patterns. It's also easy to mix the tabby gene with the other marking genes and develop solid coats or blend patterns. 
Whether the cat develops a tabby pattern depends on its dominant gene. Felines that inherit the agouti gene as the dominant one will have a clearer expression of tabby patterns. 
On the flip side, cats with the recessive non-agouti gene will not develop visible tabby patterns. Such cats have "ghost striping." Ghost striping refers to the subtle underlying tabby patterns. You can only spot these subtle patterns in a bright environment. 
To round it up, the tabby patterns will largely depend on your kitty's genes. We advise you to get plenty of cat treats and toys and have a fun time with your purr-fect furball. 
Tabby Cat Temperament And Personality Traits
We can't make any assumptions about tabby cat personality as it's just a coat pattern and not a breed. The only suitable method of determining the temperament and personality of your tabby cat is by looking into its breed. 
In most cases, a glimpse of the cat can help you determine its breed. Many felines adopt distinct physical traits. However, with mixed breed cats, determining their breed might be challenging. 
If you are eager about your kitty's genes, you can buy a DNA test kit. The DNA test kit will help you compare your feline's DNA against the largest cat DNA database. Additionally, you'll have better insights into the breed composition of your cat. 
Each tabby cat breed displays unique genetics. Owing to this, you have to spend time bonding with your tabby. 
Taking Care Of Tabby Cats
Tabby cats love to stay indoors and enjoy companionship with families. Thankfully, grooming and taking care of tabbies are pretty easy. Consider the following points for tabby cat care: 
Right Cat Food
Tabby cats typically thrive on the meat and flesh of other animals. However, most of them do not follow a strong prey drive. So, you have to take care and ensure they receive a high-quality and protein-rich diet. 
Their daily meals should also have plenty of minerals and vitamins to keep them fit and fine. It is advisable to fix a strict feeding schedule for the kitties. Also, adult cats need food twice a day. 
Stimulating Toys 
Besides healthy food and clean water, tabby cats also require toys. Toys can help your kitty with mental stimulation. Tabby cats enjoy simple toys such as fake mice, sticks, strings, balls, etc. 
At times, you'll notice that they enjoy climbing on your furniture, and so other physical activities are required. It's better to see what they enjoy and accordingly entertain these furballs. 
Hydration 
Fresh and clean water is crucial to maintaining the health of tabby cats. Make it a point to hydrate them throughout the day. Also, if your tabby cat depends on dry food, the importance of water increases further. 
Without enough water, the tabby cat's body will feel dehydrated. Dehydration can lead to severe sickness in felines. 
You should also note that tabby cats will refrain from drinking dirty and foul-smelling water. So, clean their water bowls daily and remember to fill them with fresh water every day. 
Spick And Span Litter Box
Like unclean water, tabby cats may hiss at the sight of a dirty litter box. Tabby cats are keen on having a clean litter box. Make sure to place the litter box in any peaceful and tidy corner of your home. 
According to the weather and the tabby cat's preferences, you can make their litter box warm or otherwise. 
15 Amusing Tabby Cat Facts
We are sure that these amusing felines have much more to them than unusual marking and coloring. Here are some tabby cat facts that'll surprise any cat-lover: 
Black tabby and orange tabby cats go by the name "marmalade cats."

An orange tabby cat named Morris was the face of a commercial advertisement for a popular feline food brand, 9lives. 

It is a belief that witches from the 16

th

century loved tabby cats. Also, the cats owned by these witches were humans who the witches turned into cats with magic. 

Garfield is an American shorthair breed who is also a famous orange tabby cat. 

Legends claim that a tabby cat kept baby Jesus warm. Mary gave the popular 'M' marking to the cat when the tabby cat nestled close to baby Jesus.

You can spot another famous tabby cat in the movie "Shrek"; it goes by Puss in Boots.

Some of the common tabby names are Tiger, Morris, Garfield, Tigger, Spot, and Marble. 

There are different versions of stories behind the origin of the word 'tabby.' Some think its name was after a Baghdadi silk. Also, it's believed that the term 'Atabis' was popular in 14

th

century France to indicate patterned cats. 

Sir Winston Churchill loved orange tabbies. 

A Maine Coon tabby cat can grow as large as 10 to 16 inches in height. Also, at maturity, a Norwegian Forest cat can weigh several pounds! 

The orange tabby cats can develop a few black freckles around their mouth and nose area. 

Most typical purebred tabby cats include American Shorthairs, Maine Coons, British Shorthairs, Bengals, and Abyssinians. 

The four common types of tabby cat patterns are mackerel, ticked, classic swirls, and spotted. There's also a fifth type – patched. 

The lifespan of a tabby cat can range from 10 to 15 years. Also, indoor tabby cats have a longer lifespan than outdoor tabbies. 

Prof. Jim Willis penned a story about patterned felines in his book "Pieces of My Heart – Writings Inspired by Animals and Nature."
Now that you know that these "Garfield" cats are as adorable in real life as they are in the cartoon, don't you want to adopt one? These individualistic souls are anything but dull.  
You should also know that a tabby cat managed to grab the headlines when it was elected as an Alaskan town mayor. Felines are amusing, aren't they? 
Hopefully, this article helped you understand tabby cats better. So, which tabby-patterned cat breed will it be – Abyssinian, Ocicat, Scottish Fold, or something else?
Frequently Asked Questions About Tabby Cats
As an Amazon Associate, I earn from qualified purchases. www.bestcatfoodreviews.com  is a participant in the Amazon Services LLC Associates Program, an affiliate advertising program designed to provide a means for sites to earn advertising fees by advertising and linking to Amazon.com.