As is put in their website, Solid Gold cat food review claim to be a bunch of pet-loving nutritionists.
They wish to return the love of pets and their allegiance by serving them premium, holistic and naturally-sourced products to let them live life to the fullest. And to make them feel good about themselves.
It all started when a woman who goes by the name of Sissy Harrington-McGill, who is the founder of this, noticed something strange.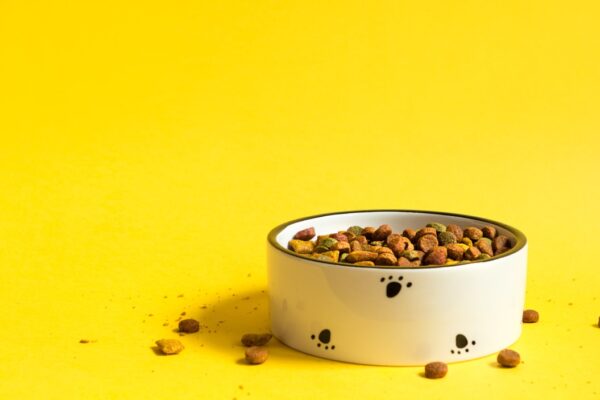 There was a three to four years difference in lifespan between dogs of the U.S and those of Europe.
The research revealed that it was a difference in diet and nothing else that was so significantly impacting their lives.
Then she kept on working to raise the standards of food for dogs and that led them to their trademark maintenance of a holistic approach of "carefully crafted superfoods" in their pet foods.
Based on life-stage, the weight of cats, medical issues that they have, etc., Solid Gold has wet and dry cat food.
Twenty different power boosting foods are part of the diet. It includes oils like almond oil, salmon oil, and sesame oil.
It also contains fruits like cranberries, apples, and blueberries.
Besides, vegetables such as carrots, celery, beets, pumpkins, broccoli, spinach is part of the superfood clan.
Other than that we have herbs like spearmint, watercress, parsley, thyme, and other miscellaneous items like lentil, egg protein, fish meal, chicory root, and dried kelp.
This is what dry food includes.
The wet food has countable ingredients too but always features meat as the prime ingredient.
Solid Gold Cat Food Review
Following are the reviews on 2 Solid Gold Products, one dry and the second, wet that we chose we focus, based on their ingredient analysis, nutrition analysis, caloric breakdown, positives, and negatives:
1. Solid Gold Indigo Moon With Chicken & Egg Review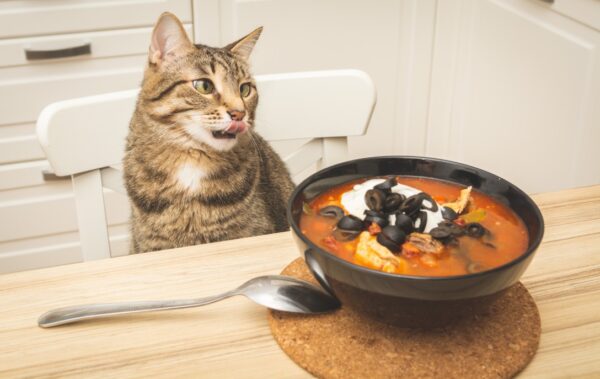 As is the rule while checking the quality of the product, you should always see what the first five ingredients in the list are. These make up the bulk of the products and the significant few.
Any anomalies here and you will be certain what you are not buying for your cat, no matter what.
After studying the first five ingredients on the list, we found the following:
-Quality ingredients: chicken meal and chicken
-Questionable ingredients: none, thankfully
-Causes of sensitivity: dried egg products and salmon oil
The ingredient present in abundance is chicken and chicken meal. Thankfully and surprisingly, we didn't find any fillers or bulk-adding products in the mixture, that is often unnecessary and unwanted.
What we did find, however, was the presence of 3 potential allergens.
Even if your dog is not allergic to all of them, it could be to one, forcing you to cut it out from the list of potential cat foods to try out.
Also, don't just stop with the first five; move on to read what the next ingredients are and make sure they are understandable well-known names.
2. Solid Gold New Moon Blended Tuna Recipe In Gravy Review
Below is the five-step analysis of the Solid Gold New Moon Blended Tuna Recipe In Gravy wet cat food pack for you to read:
We have mentioned how to do it earlier, but we are going to reiterate if you are one of the quick readers who skipped things or are simply in the quest of the best wet Solid Gold cat food.
To analyze the ingredients of your wet cat food, be it this one or any other, so a simple check of what is in the list. The five-five should be your top preference since they are what they are: the top ingredients, which is the most of the product.
You will also consider reading the later ingredients after you are done with it. In any way, the names of the ingredient should be those of which you have heard of, have eaten or are recognizable.
Do not be sold for teeth-gritting, hard-to-pronounce names thinking that these are good for it.
-Quality ingredients: Tuna
-Questionable ingredients: tapioca starch
-Allergens: tuna, unfortunately
The mostly present ingredient in the pack is tuna, which is a natural protein source.
One unfortunate thing is that it has tapioca starch in it, which although not potentially harmful, is an ingredient we would not naturally want in the food since it has no work other than acting as a filler.
Given that this is quality wet cat food, there should be less need of fillers to hold the stuff together than it would be required in dry cat food. So, this is an addition we aren't quite in for.
Last but not least, the tuna itself may pose as a potential allergen for some cats.
As such, although the product is a promising one, it fails to meet the health requirements of some cats as they grow diseases and health problems starting with diarrhea and puking.
The nutritional analysis revealed that there is significantly more protein here than in the average cat food, significantly fewer carbs than cats need, significantly fewer fats than cats should take, and together they make a great combination, also one not easily found. Lastly, there is less fiber in here than the average wet cat food.
From the calculations provided by AAFCO, we have to say that there are roughly 71 calories here per 100 grams, or an equivalent of 20 calories per ounce, which is fewer than similar wet cat foods of the range.
Sourcing
The ingredients that are used in their food are sourced from all over the world. For example, they get their pollock from Alaska, their ducks from France and the venisons from Australia. 
Manufacturing
Although they do not manufacture their own products, they oversee the sourcing and manufacturing process strictly.
About cat foods, all of their dry cat food is manufactured inside the United States.
Their wet cat food, most of them, are manufactured in Thailand.   
How Much Does it Cost?
As is recorded in the company guidelines, it would cost you less than 3 dollars per day to feed a 10-pound of Five Ocean's wet cat food, except the triple layer line, which will cost a little more than 5 dollars per day.
If you switch to the dry kibbles, you would be able to feed costing less than 50 cents per day. But this common, as the dry versions are way cheaper than the wet versions.
Overall Verdict
For a period of more than 40 years, Solid Gold has a solid reputation of safety and ingredient quality (except for the time it got recalled for Salmonella presence in 2012 at their South Carolina facility in Gaston).
Most of their cat foods have good taste and have earned the trust of both cats and cat parents.
Although the quality isn't specifically stellar, it is above average. The dry foods have much lower carbs in the kibbles than unlike most kibbles and feature more protein than similar products.
The wet food variants aren't too good, nor bad.
 However, the thing that makes them stand out is the reliability, pricing, wide variety of options and a better go-to than the standards being built.
The options seem to be a good catch for parents looking for healthy, affordable and reliable food for their cats, be it wet or dry.
The wet version as we have studied looks much better than the dry version in terms of nutrition, but as they say, fish-based products aren't so good for cats.
If you plan on feeding it, you can mix it with something dry.
Both of them are hugely available in local stores and also in Amazon, Chewy and such online sites.
You can always let your cat try out something new. But don't miss an appointment to notify the vets!