In today's Pure Balance cat food review, we are going to address a common question: why is every cat parent willing to buy Pure Balance cat food?
Currently, the brand has exercised its control over the cat food market and has earned a good name of its own. It is known to be nutritious and inexpensive.
Before we deep dive into it, the question remains:
"Is it any better compared to the other cat food brands that you see in the market?" In addition to answering this question, we came up with some more pressing details of the Pure Balance cat food.
Top Rated Pure Balance Cat Food on Amazon (Updated)
This sample review takes you through all that you wish to learn about Pure Balance cat food. As you continue to read, you can conclude for yourself if the food is worthy of being purchased for your cat or isn't.
 Even though it comes under the umbrella of the best cat foods, there are elements like ingredients, availability, price, etc. and that need to be taken into account when buying cat food.
1. Pure Balance Salmon Dry Cat Food, 7 lb
The Pure Balance Grain-Free Wild Salmon Recipe Dry Cat Food is told to provide your cat with the nutrients that it needs with a taste they will enjoy. At Pure Balance, it is believed that the best nutrition for a cat starts with the best ingredients.
That is the reason that each one of their "super-premium" recipes is free of corn, wheat, or soy. Each of the packs is made using carefully selected ingredients to make sure that your cat gets all the nutrition she needs without any of the extra stuff that manufacturers put in unnecessarily.
This savory salmon recipe features real salmon as the number one ingredient that helps to build as well as maintain muscle mass so that your cat can run, jump, play and do whatever it wants.
The food is also rich in naturally sourced Omega-6 that keeps your cat's coat glossy and its skin healthy.
2. Pure Balance Limited Ingredient Turkey and Sweet Potato Cat Food
The Pure Balance Limited-Ingredient, Grain-Free Turkey and Sweet Potato Dry Cat Food provide good health benefits to your cat without adding the excessive, unnecessary gibberish that is sometimes put in cat food to make it more filling to cats.
Your cats will also enjoy the taste, besides all the health benefits. What's more, only the best and freshest of ingredients go in the making, or so the manufacturers say. Also, the recipe is free of the harmful corn, wheat, soy, etc. that most cats are allergic to.
The turkey and sweet potato recipe aids to support healthy digestion in your cats, with sweet potatoes acting as a natural source of fiber.
The first ingredient listed here is real turkey, which helps to build lean muscle mass in your cat. The blend of rich antioxidants like vitamins E and C help to support your cat's immune system.
Who Makes Pure Balance Cat Foods?
When it is a matter of serving a huge population with cheap yet decent products, Walmart has always donned the top of the list and seldom failed us. You can buy anything in here, starting from Christmas decors to artsy furniture at an amazingly low price.
 As you would know, Walmart has a wide range of available services around the US. It shouldn't be much of a surprise if we inform you that Pure Balance is a brand of Walmart.
Ainsworth Pet Nutrition is one of the top pet food manufacturers. They have been making nutritious food and do not usually gamble with the nutritional values which easily make them reliable. The cost of selling the products is very low with respect to other premium brands in the market.
Where is Pure Balance Cat Food Made?
If you were wondering about the whereabouts of Pure Balance Cat Food: it is manufactured in the United States. Ainsworth Pet Nutrition, responsible for the process, was established here.
There are some facts about this company that makes it different from other cat food companies.
Located in Meadville, it is a family-owned company. It may sound surprising to some that the company that delivers Pure Balance cat food explicitly to Walmart is a fifth-generation business.
The whole dilemma about the location of it does raise questions among users and new customers but it is actually a brand that manufactures in the US.
Is the Pure Balance Cat Food Actually Healthy?
Of course, when a product starts to become popular, especially something that is a food item, questions regarding the robustness or heartiness start to arise.
These days, the Pure Balance Cat foods are a hit in the market, which obviously makes people wonder if it's truly healthy or not. 
As we have discussed earlier, Pure Balance uses the best natural ingredients that have a high nutritional value. They aim to provide cats a balanced diet.
The nutrition which is required in a cat's body is no longer the mice or wild prey they use to catch earlier, but are covered by their food products.
Safely so, one does not have to worry about the wellness of the Pure Balance Cat Foods. Feeding it to your feline friends should make her healthy, as most users say.
Are These Vet Recommended Cat Foods?
Usually, the kind of food that vets recommend is non-traditional. They prescribe foods that do not contain any added/artificial preservatives, but those which are cooked at home or are bought from a trusted company.
Although it is not *exclusively* vet recommended as a must-have for so-and-so problem, it is not prohibited by them too. Since it is approved by "AAFCO Cat Food Nutrient Profiles", it is a safe choice for cat owners.
You can feed it to your cats without the fear of making them ill. Still, to be sure you can ask a vet before introducing the diet to your cat.
Pure Balance Cat Food Overall Rating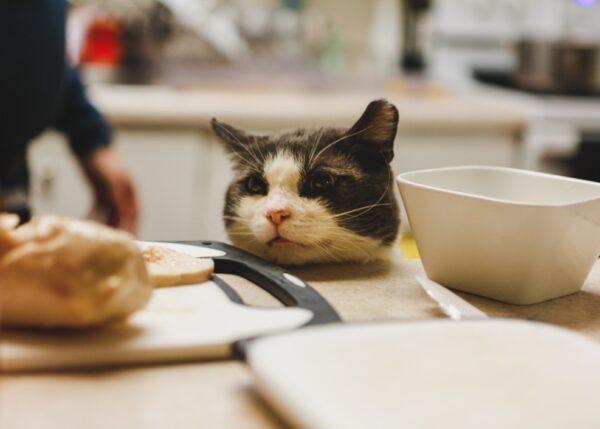 The best part about the internet is that you can find anything on it only if you know how to dig deep enough. Most of the internet users who regularly buy products online or offline often try to find the ratings of that particular product.
The most common and best way to do it is by seeing what other buyers think of the product. This helps users choose easily.
If you want to buy Pure Balance cat food, then there are some things that you should know.
Firstly, Pure Balance cat food comes in a variety of flavors. You can expect to buy recipes from poached salmon to chicken and brown rice. This provides buyers a number of options to choose from.
Secondly, even though all the flavors have different ingredients, recipes, and use, one thing that they all have in common is quality.
Lastly, some flavors are not accepted as much as the others. Even in the Pure Balance cat food review we just showed, the salmon recipe is more loved than the sweet potato one.
The treats from Pure Balance that feature flaked shrimp and tuna again is not a much-liked treat by the cats. You just have to accept that all cats are different and each one of them has its own sense of taste just like we humans do.
Do not force-feed your cat if it doesn't like the recipe. Switch to another flavor or brand even, if needed.
One of the important things to look for in cat food is the ingredients. Then is your convenience.
What is more convenient than go online and ordering from Amazon this cheap yet high-quality cat food?
Since Pure Balance cat foods have lived up to their name and are able to provide balanced and pure food to cats, while at the same time are trusted and readily available.
Even though there are some downsides to this food, the benefits weigh more. You can try and buy this option to be tested.