Apparently, you want to feed better-quality foods to your furry family member. Meow Mix cat food can be that premium food meal options for your beloved feline.
Learn the why's in this Meow Mix cat food reviews. 
All the Meow Mix recipes are full of flavor and stimulated with essential nutrients.
The taste is so delicious that your cat will crave for more. The amusing part is that Meow Mix is the only brand cats for by name! 
The delicious flavor of turkey, salmon, turkey, ocean fish, etc. makes the recipes mouthwatering.
Most pet owner claims that their cat goes crazy for this formula, thanks to its appealing taste. 
Even if your cat is picky or demanding, they will surely love every single Meow Mix recipe.
However, Meow Mix is all about the mix!
It is also considered as the budget-friendly formula. That's why most pet owners serve it as a daily meal to their active cats.  
In this article, we will explain to you more about Meow Mix and their cat food formulas.
Also, we have compiled a list of the best Meow Mix cat foods. Go through the review and discover which one your little feline finds the most delicious.
Top Rated Meow Mix Cat Food on Amazon (Updated)
For over 40 years, Meow Mix has been committed to providing the essential nutrients to your furry family member.
The journey began in 1974 when this iconic brand was formed. It was originally owned by the Ralston Purina Company, which is now Nestle-Purina. 
In these 40 years, Meow Mix has been owned by several owners. Cypress Group acquired this famous brand in 2003, which is a New York-based equity firm. 
Three years later, in May 2006, it was acquired by Del Monte Foods- the owner of Big Heart Pet Brands.
Finally, the J.M. Smucker Company bought this brand on March 23, 2015.
Along with so many owners, Meow Mix is also known for the Meow Mix jingle. Tom McFaul composed this famous Meow Mix jingle.
This brand is cost-effective and readily available in the stores.
Meow Mix Cat Food Sourcing and Manufacturing
Meow Mix is one of those cat foods whose manufacturing is done separately for dry and wet recipes.  Meow Mix dry cat food is prepared in the company's own facility in Decatur, Alabama, United States. 
Likewise, Meow Mix wet cat food is prepared in Thailand. The company didn't share any information about Meow Mix cat food ingredients sourcing.
What Kind of Cat Food Does Meow Mix Offer?
Meow Mix offers a variety of dry and wet food options with an assortment of flavors to choose from. Along with dry and wet mixtures, Meow Mix also offers treats and grain-free recipes for your fussy feline.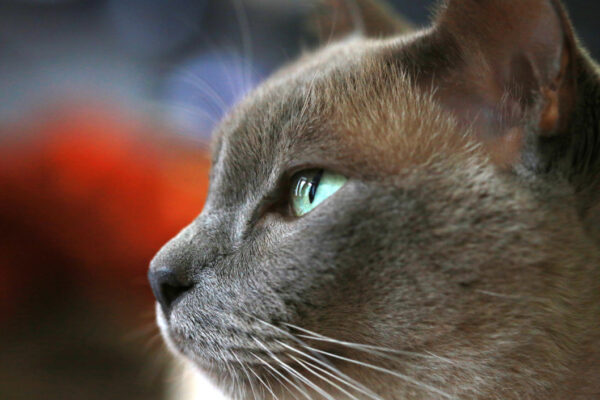 Meow Mix prepares their dry foods in a way that helps make the most of mealtime. It provides healthy cat nutrition along with appealing flavors.
Here are a few of the most favorite Meow Mix dry cat food recipes:
Meow Mix includes a range of wet cat food to delight your cat. The Meow Mix wet foods are full of tastes and textures. Most recipes are made with tender meat, poultry, or seafood.
Here are a few Meow Mix canned cat foods:
Meow Mix Grain-Free Cat Food
Now your cat can enjoy its meal with no added grain.
Here are a few grain-free recipes:
Meow Mix brings delicious treats for your cats. They won't starve in between meals. Meow Mix cat treats to create an excellent bond between two mealtimes.
Here are a few Meow Mix cat treats:
Meow Mix Cat Food Ingredients
In most Meow Mix Cat food, ground yellow corn and corn gluten meal are the first two ingredients.
Besides, chicken, salmon, turkey, shrimp, and beef seems to be the primary source of protein. The beef tallow is a common source of fat in most recipes. 
Also, the soybean meal presents as the animal digest in many formulas. As corn is the main ingredient, so this high-carbohydrate formula is not suitable for cats with allergies. 
Meow Mix Cat Food Recall History
Meow Mix cat food has never been affected by FDA-issued recall. Though with in-depth research, we have found that Meow Mix was involved in an extensive consumer-test in 2015. 
A consumer advocacy group crowdfunded study contaminants. There they found eight cat food was contaminated; Meow Mix Tender Centers Cat food was one of them. 
As stated by the test, this food had a high-risk level of mycotoxin content.
Mycotoxins are formed by fungus and grows on grains like wheat and corn. It may cause severe illness or access consumption that may result in cancer, liver toxicity, and more.
Meow Mix Cat Food - Top 3 Recipes
Best Meow Mix Cat Food Reviews: Our Top 3 Picks
After analyzing for hours and evaluating several factors, we have assembled a list of the best three Meow Mix cat food. We precisely check the ingredient quality, customer experience, and price,  so you can rely on our recommendation.
1. Meow Mix Original Choice Dry Cat Food
Sale
What if your little feline gets the taste of six delicious mixes?
Yes, it is possible, only if you serve him Meow Mix Original Choice dry cat food.
The blend of six flavors helps you connect with your cat over a healthy meal. 
What Does It Contain? 
The recipe doesn't contain any natural protein sources, but it has delicious flavors of four types of meat, including chicken, turkey, salmon, and ocean fish.
Even without raw protein, it provides balanced nutrition for your cat. Your cat will surely love each flavor. 
However, it has whole corn as the first ingredient that gives the meal a nice crunch. This high-carbohydrate content contains added calories, which may not be suitable for a cat's meat-based diet. 
Secondly, the cat food has a protein-dense corn gluten meal. It includes a chicken by-product meal that is species-appropriate.
It can be a highly edible source of nutrition. The recipe contains beef tallows as an excellent source of fat.
Also, the soybean meal in the recipe is a source of plant protein. These protein sources help to build strong and healthy muscles. All in all, it provides all the necessary vitamins and minerals. 
Top Ingredients: Whole ground corn, soybean meal, chicken by-product meal, corn gluten meal, beef tallow, and so on.
2. Meow Mix Savory Morsels Wet Cat Food
Meow Mix Seafood Selections Wet Cat Food, Variety Pack, 2.75 Ounces Cup (Pack of 24)
Contains (24) 2.75 Ounce Cups of Wet Cat Food (8-Tuna and Whole Shrimp, 8- Salmon and Ocean Fish, 8- Tuna and Crab)
A variety with irresistible seafood combinations
Tender pieces of real fish in each variety
Complete and balanced nutrition for adult cats and kittens
Sealed in stay-fresh easy-open cups to lock in natural juices and flavors
If you like to change your cat's diet every few days, the Meow Mix seafood Select variety pack is what you need.
Meow Mix seafood selection variety pack includes a variety of fish flavors. Your little fish lover will meow for more. 
What Does It Contain?
This seafood select pack includes three unique recipes with healthy ingredients and an appealing taste.
At first, this irresistible seafood combination has Tender Favorites recipe. The recipe is prepared with real tuna and whole shrimp in sauce. 
In this delicious savory-saucy mixtures, your cat will get essential vitamins and minerals. It helps to maintain cats overall health.
The next, Savory Morsels is prepared with real salmon and ocean fish in gravy.
This recipe also includes chicken and dried egg product as a source of protein. All the natural minerals and vitamins are included in the formula as well.
Finally, the Savory Morsels recipe is made with real tuna and crab in gravy. Overall, it's a great deal for any picky cats.
Top Ingredients:
Tender Favorites With Real Tuna & Whole Shrimp
Tuna, whole shrimp, fish broth, ocean fish, guar gum, and more.
Savory Morsels With Real Salmon & Ocean Fish
Salmon, ocean fish, chicken, whole gluten, dried egg product, and more.
Savory Morsels With Real Tuna & Crab 
Tuna, crab, chicken, whole gluten, whitefish, and more.
3. Meow Mix Tender Centers Dry Cat Food
Our final Meow Mix cat food is one of their popular additions.
The Meow Mix Tender Centres dry cat food combines irresistible salmon and chicken flavors.
It has a crunchy coating with a meaty center. 
What Does It Contain?
The recipe is claimed to be a protein-rich recipe by Meow Mix. It has chicken by-products as the primary source of protein.
This protein source contains vital nutrients to keep your little feline healthy.
Like other Meow Mix cat food, it is also prepared with whole ground corn. Besides the corn, it also includes corn gluten meal as a concentrated plant protein source.
Soybean meal is another plant protein source in this recipe. 
Along with the grains, it also includes an adequate level of animal-sourced fat.
The recipe has one thing unique that is corn syrup for added sweetness.
Moreover, it contains carrageenan that helps to stabilize your cat's appetite. This double-textured kibble is indeed an excellent choice for your beloved cat.
Top Ingredients: Whole ground corn, corn gluten meal, soybean meal, chicken by-product, salmon, animal fat, and more.
On the whole, each Meow Mix cat food has balanced and complete nutrition. Without compromising taste and quality, Meow Mix offers the economy cat food.
Like the name, Meow Mix combines a variety of flavors to make the dishes appealing. 
Hopefully, our Meow Mix cat food reviews help you to find the best of all. You should now understand why we choose the Meow Mix for your furry friend!
As an Amazon Associate, I earn from qualified purchases. www.bestcatfoodreviews.com  is a participant in the Amazon Services LLC Associates Program, an affiliate advertising program designed to provide a means for sites to earn advertising fees by advertising and linking to Amazon.com.