Are you bored of playing the same games with your cat every day?
Is your cat becoming less and less responsive as your playing patterns are dull and mundane?
It would help if you then rethought your perceptions about how to play with a cat.
This quick guide can open up new perspectives on how you can have better times with your cat.
It will get your cat involved with you never before. Our quick guide is here to help you:
This kind of question may seem laughable to the people who do not possess much enthusiasm for pets, but for cat owners like you, this is quite serious indeed.
Many get tired of playing the same boring games every day. The cat does not feel much interest in repeating the same games day in and day out.
What is the solution, then?
First, we should understand why it is essential to have different games when you play with your cat.
Although domesticated thousands of years ago, the cat is still an animal, and they have wild inner tendencies.
For example, if they see a mouse or a cockroach, they will not react like a 21st-century human; instead, they will chase it and perhaps try to eat it if they can catch it.
The first mistake we always make is we think they are like us. So, playing comes in here to bridge the gap between her wild and house life.
It is essential for cats to play because it replicates the activities they would show in the wild and activates their innate instincts.
Playing is also necessary because it develops the relationship between the cat and the cat owner.
Playing games with your cat regularly will surely boost your connection with your cat.
Kittens need to play to develop every cat's unique features, such as jumping, catching, running, etc.
You will often see the mom cat teaching her kittens to play with her tail. This clearly explains that she understands that playing is necessary for her kittens.
Furthermore, more playing time will keep them physically fit.
You may notice that obesity in cats is becoming a significant issue.
Many owners pride themselves on it. But trust me, obesity is never suitable for your cat, no matter how good it looks on the outside.
Moreover, they need playing times to counter boredom. The cats that do not play much will be less responsive and may become lazy.
On the other hand, the cats which play a lot are always active and responsive toward their owners.
There are countless other benefits as to why you should rethink the games you play with your cat.
This guide will give you some new perspectives on how you can transform your relationship with your cat through games.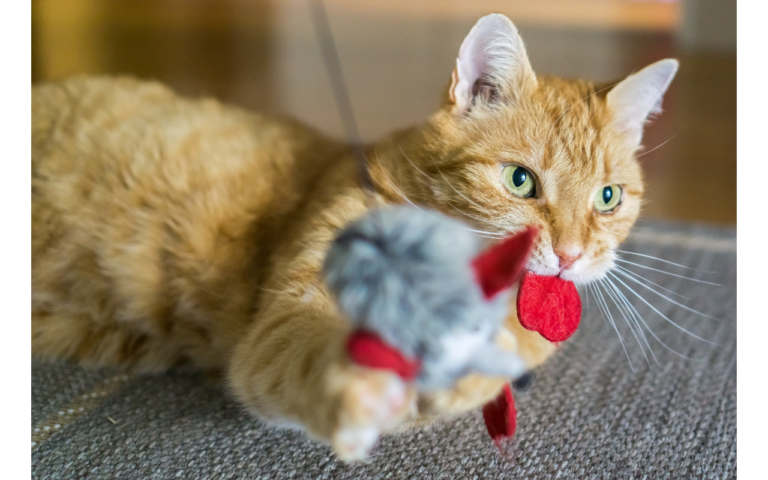 The first thing that comes to mind while thinking about playing with your cat is the toy.
You can utilise the objects you use on an everyday basis to play with your cat. But you should keep in mind that they do not pose a health risk, and you should make sure the cat will not be able to swallow them.
Cardboard boxes are the iconic cat toys. You can also try balls and cotton reels.
You have to change these toys often if your cat gets bored.
The toys that reflect light are something that your cat prefers: another thing your cat likes is objects that move in different directions quickly.
Buy toys keeping in mind the criteria mentioned above.
However, it is not safe for cats to play with toys that pose the risk of electric shock, and you should always be cautious while introducing any electronic toys to your cat.
Further, cats love objects which symbolise the mouse or cockroaches.
Try to find toys of such size.
Cats also love to engage in play with games that will utilise their senses of smell, touch, and sound.
The last thing that you should always keep in mind is the lack of persistence in the cat's nature.
When they are introduced to a new toy, you will find them highly excited. But after some time, they will have no interest in that particular toy.
You can deal with this short attention span by swapping your cat toys regularly.
In this way, the cats will not be bored with a toy as you remove and switch in new toys before they become bored.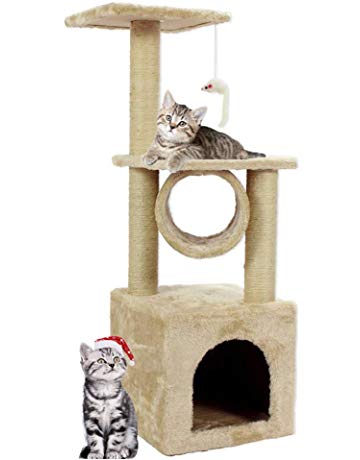 Food is Always Interesting!
In the wild, cats have to go hunting for their food, an activity which is not present in house cats today.
Introducing your cat to a food ball dispenser can be a fantastic way to mimic wild experiences.
This food ball dispenser holds a small number of cat foods.
The cat has to push the ball with her paws, so the ball moves and drops food.
Seeing the food cat gets more interested and continues to move the ball to get more food. This way, your cat gets food as she would have earned in nature.
You can also use food in terms of giving building a reward strategy. This particular strategy is used in dogs and other animals as well.
You can reward your cat when she performs an activity.
Similarly, a food reward after each game played is often necessary to keep the cat's attention on a particular game or activity you like.
Cats and Balls, A Pair Not to be Detached
Your cat will always like to play with balls.
Buy shiny balls for your cat so that it attracts her.
You can teach your cat fetching as well. If you can prepare your cat how to fetch, ball games will gain new dimensions.
You can throw the shiny balls to a place in your house so that she brings them back to you.
Even if you do not throw the ball in different directions, your cat may play with the ball by herself anyway.
She will try to kick it with a paw, try to catch it, and continue to repeat the process until she tires herself out.
Apart from the games mentioned above, there are some more games you can try with your cat.
These games are a must requirement if you are unsure how to play with a cat.
They are as much fun to the cat as it is to you. Both you and your cat will enjoy the games if they are played with enthusiasm.
       

Playing hide and seek with your cat can be interesting.

       

Invent new uses for your cat's cardboard boxes

       

Playing tag with your cat is always fun

       

Birds game – wave an object or a feather in front of your cat. Your cat will jump in the air to catch what it thinks like a bird. It is a game enjoyable to both the owner and the cat

       Laser light is one of the cat kingdom's most well-known games. You have to make your cat chase the light in different directions.
There can be times when your cat does not want to play. When/if your cat does not want to play, you will understand by her face.
She will not respond to any toys or any interaction.
In this case, you shouldn't force her into play. This may not turn out positively.
Perhaps she needs some rest; give her some time off. After some days, you may find her rubbing your legs for some game time.
Then you can again engage in various games we discussed with your kitty and have a good time with her!
Cats are mysterious animals; unlike dogs and other domestic pets, they like to spend some time alone.
Let her have her moments with herself.
If you always force your cat to play with you, your cat may develop a dislike towards you. And then you need to accept that not all cats are the same.
Some cats can be interested in communication and physical activities.
Some cats can be lonesome and lazy and like to spend time alone.
You are your cat's owner. You have to accept her even if the world calls her irresponsive and lazy.
Be responsible for however your cat is. Accept the differences and give her the love she deserves from you.
As an Amazon, Chewy and Walmart Associate,  I earn from qualified purchases. 
 www.bestcatfoodreviews.com  is a participant in the Amazon Services LLC Associates Program, an affiliate advertising program designed to provide a means for sites to earn advertising fees by advertising and linking to Amazon.com.