If you visit the website of Crave, you can observe and be mesmerized with the ruggedness of it.
They present cats and dogs not as cuddly, cute pets; but as animals who need meat and high-protein derivative diets to feed their "instinctual" desires, as their predecessors in the wilderness used to have.
This is why they have a solid brand image as you would have seen in the packs, featuring rough-and-tough animals.
Although they started only 2 years back or so, they have gained the trust of cat-owners and the approval of cats to be in the business for good.
Without further ado, let us proceed to the Crave cat food reviews which we plan on sharing with you today.
Crave Cat Food Reviews: Dry and Wet, Our Top Two Picks
Below we have presented two Crave cat food reviews, one dry and one wet cat food.
Under the dry and wet versions, we have presented the ingredients analysis, nutritional analysis, a break down of their calories, and lastly the positives and negatives.
Read on to know the details and then decide on the one you want for your kitty-cat.
1. Dry Cat Food: Crave Grain Free High Protein Dry Cat Food
Crave with Chicken & Salmon Indoor Adult High-Protein Grain-Free Dry Cat Food is the pack containing a diet rich in animal protein.
With chicken as the prime ingredients and no potentially questionable ingredients, we present you our in-depth analysis of it:
To be sure of what you are feeding, you must check the first five ingredients of your cat food, as they are the ones present in plentiful.
After you have done so, move forward to see what are the other ones and ideally, they should be nothing you can't pronounce.
The following ingredients caught our attention:
Quality ingredient: Chicken, chicken meal and salmon meal

Questionable ingredient(s): None

Potential Allergen(s): Salmon meal
The high-quality protein that we are talking about is sourced from real chicken and chicken meals here.
After that, the absence of questionable ingredients, as in corn/soy/glutens to be used as fillers to increase the bulk of the product is totally absent here.
A very very fair and loud indicator that this is a quality pack. Lastly, although not allergen for all cats, salmon meal may prove as allergens to some.
After doing the nutrition analysis it was seen that it has a healthy amount of protein, an average amount of carbs, less fat, more fibers, and less moisture than we would expect from such a quality pack. But you can't have all the good, can you?
According to the calculations provided by AAFCO, it has approximately 374 calories per 100g (similar to 106 calories per ounce), which is an average amount of calories compared to other dry cat foods we study.
2. Wet Cat Food: Crave Grain Free High Protein Wet Cat Food Trays
Since this is a pack of two different flavors: the Turkey Pate and the Salmon Pate: 12 of each, the analysis will be two-fold.
1. Ingredient Analysis: Turkey Pate
Analyzing the first five ingredients is essential to judge what you are buying, and we can hardly lay any more emphasis on this than we did.
You should always go for the ones that have quality protein in them as the first ingredient, not even second or added with a comma, but obviously the first.
The following ingredients will tell you what else is in the food in descending level. Now the ingredients shown in the list presented the following data:
Quality ingredient(s): turkey, chicken liver, chicken heart, duck

Questionable ingredient(s): guar gum, carrageenan, tapioca starch

Potential Allergens: fish oil.
The first ingredient is pure turkey which is present in plentiful. Side by side, there are chicken liver, chicken heart, duck, etc. which all are excellent proteins.
Up next, the presence of guar gum and carrageenan may be the additives that can cause medical conditions in cats, but there is no explicit mention of bulk-adding fillers or by-products in here which is a great thing.
Lastly, fish oil may cause cats having seafood allergies to suffer.
2. Ingredient Analysis: Salmon Pate
After a quick look at the first five, most important ingredients of the list to say whether it is a catch or ditch, we came up with the following results:
Quality ingredient(s): salmon, chicken liver, chicken, chicken heart

Questionable ingredients: guar gum, carrageenan, tapioca starch

Potential Allergens: salmon, fish oil.
The protein for the cats come from the set of salmon-chicken liver-chicken-heart-chicken.
After that, the set of gum and carrageenan aren't exactly necessary but have been additives that might cause problems in cats.
Lastly, there are salmon and fish oil present which might prove to be allergic to some cats.
3. Nutrition Analysis: Turkey Pate
The nutrition analysis showed that there is higher protein here than the average, lesser carbs than the average, more fat than the average, and lesser fibers. This looks like an acceptable combination of nutrients.
4. Nutrition Analysis: Salmon Pate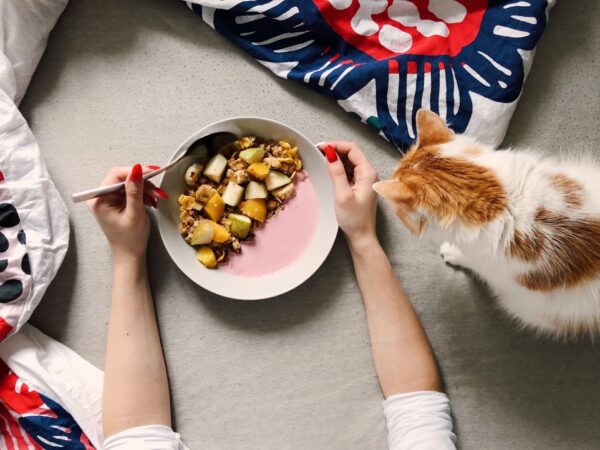 The nutritional analysis of the Salmon Pate showed us that it contains more protein than the average, fewer carbs than average, an average amount of fat and average carbs which is an excellent combination, to say the least, for cats needing no special attention for their medical conditions. But, you can always consult your cat's vet.
5. Caloric Breakdown: Turkey Pate
The AAFCO calculations say that their Turkey Pate has 102 calories per 100g (similar to 29 calories per ounce), which is a few more calories compared to the average of the other wet cat foods we came across.
6. Caloric Breakdown: Salmon Pare
Using the calculations given by AAFCO, we can conclude that it has 86 calories per 100g (equivalent to 24 calories per ounce), which is an average amount of calories compared to the other wet cat foods.
*All the information are collected from the manufacturers.
This brings us to the end of the Crave cat food review. As you have seen, we presented to you a dry cat food and a wet one.
You can mix one with the other if you like both. You can give them individually, at separate times to your cat, depending on his need.
Whatever the case, the bottom line is that even if they aren't a very popular name or aren't as big as the likes of Purina, Hills and such, they are definitely doing good and the stats point out that they are even better than the average competitors.
That too in such an early phase. As time goes, they will get better and there is only hoping the food gets better too!
The recipes of the dry and wet cat food versions of Crave Cat Food have been designed to serve the nutrients necessary for cats to be a rightful carrier of their predecessor's instincts.
They want your cats to have high-quality protein, grain-free, no-nonsense foods to meet their needs. And for that, they have developed these two.
Needless to say, there are other varieties of their food and other flavors that they offer.
It is at your own will you can wish which purchase. And you surely won't be disappointed.
So, grab their high-protein kibbles and "perfectly portioned" Pates to give your feline buddies what they deserve. Happy buying!
As an Amazon, Chewy and Walmart Associate,  I earn from qualified purchases. 
 www.bestcatfoodreviews.com  is a participant in the Amazon Services LLC Associates Program, an affiliate advertising program designed to provide a means for sites to earn advertising fees by advertising and linking to Amazon.com.