Are you thinking of buying an automatic cat feeder? These devices are excellent for feeding your cat when you're not around.
Some people use it daily to feed their cats at a specific time of the day. Others use it when they're out for a while or going on a vacation.
These devices are user-friendly and convenient, which you can program to feed your kitty just the way you want. 
So, you'll know the exact amount of food your cat is having and prevent them from overeating.
With a cat feeder by your side, you don't need to get a pet sitter just to make sure your cat is fed. 
That's why we've curated the best automatic cat feeder options here. Let's start!
Best Automatic Cat Feeder Comparison
Table could not be displayed.
Best Automatic Cat Feeder Reviews
To ensure that your cat gets the proper feeding assistance, you need to be careful when picking a feeder.
Most products in the market claim to offer the best customization and functionalities. Still, you need to evaluate their features very carefully. 
Check out our reviews for the best automatic cat feeders to stay worry-free!
1. Feeder- Robot from the Litter Robot – Best Overall
The first product on our list is called Feeder-Robot and offers an array of exciting features for your cat. It lets you monitor the feeding times and habits of your cat, which keeps your pet fit. 
It runs on Wi-Fi, and you can control it from anywhere, making sure your cat is fed on time.  
Features
Complete Control 
As mentioned earlier, this device gives you complete control while setting the meal times and proportions. You can control it using the device control panel or by the AutoPets Connect app on your smartphone. 
You can select the amount it dispenses along with the number of times it does so. Thus, you'll know the exact quantity your cat has consumed and limit or increase it accordingly.
Saves Feeding Schedules  
This excellent cat feeder has functionality that detects the amount of food left. In addition, the device can save your cat's feeding schedule. So, it will continue feeding your cat even if the device is offline. And all of this info is notified to you. 
Pet-safe Design 
The design of this automatic feeder is completely safe for your pets. It is manufactured using BPA-free plastic material and an electric cord that is chew-resistant. Moreover, the lid is tamper-proof so that the food will stay fresh. 
The hopper has an automatic locking system that prevents your cat from messing with the contents inside.   
Convenient Design 
The device is extremely easy to use and takes up very little space among your other appliances. Plus, your cat will find it easy to use too! Having a compact design, you can take it anywhere with you.
Being very low maintenance and easy to clean, this is a fantastic product to check out.
Verdict
This cat feeder is for you if you want to have maximum control and enjoy seamless functionality from anywhere.
2. PetSafe Smart Feed Automatic Dog And Cat Feeder – Best with Battery Life
The next one on our list is from another well-loved brand PetSafe, which has all the features you'll need. Providing you with remote feeding controls, simple meal scheduling, and convenient controls stands out due to battery life.
Features
Battery Backup  
The device is so smart that it will keep dispensing food, even if there are connectivity issues. Having an excellent backup, you can include 4 D cell batteries to maintain your cat's feeding schedule. 
So, even if there's a power outage or Wi-Fi problems, the device doesn't miss the next mealtime.       
Seamless Connectivity 
You can easily connect your Android or iPhone device with this automatic cat feeder. Remotely control it from anywhere using the handy device app, that office you complete control as a pet parent. 
Simple Maintenance 
Being dishwasher safe, the cat feeder is easy to clean. You can maintain the lid, hopper, bowl, and bowl holder perfectly clean without hassles. It is ideal for indoor use and convenient for all pet parents. 
Its stainless steel design offers stability, while the BPA-free plastic material makes it safe for your furry friend.  
Personalized Feeding 
You can easily schedule around 12 meals for your cat and feed them throughout the day. These meals can be 1/8 to 4 cups and must contain only dry food. Moreover, you get two options for feeding – the slow feed setting and the feed now setting. 
The slow feed option dispenses food slowly for hungry kitties to let them eat properly. The feed now option enables you to treat your kitty with a small snack anytime during the day.   
Verdict
If you're looking for uninterrupted service and want to offer your cat snacks during the day, you can check this out.  
3. Faroro Automatic Cat Feeder – Best with Camera
Are you interested in a sophisticated and programmable cat feeder? This amazing product from Faroro will impress you. Along with the excellent design and meal schedule, it comes with a camera. 
You heard that right! You can watch your bed while they munch on their kibbles. 
Features 
Automatic Meal Scheduling
With this device by your side, you can easily organize up to 12 meals per day for your cat. You can use the app to schedule the meal plans as you wish. So, even if you have overslept or aren't at home for a couple of days, the device will dispense food timely for your cat.   
Keep Your Pets Healthy 
The automatic feeder consists of portions having 2 Tbsps each, where you get 1-99 portions while feeding. You can break up the meals into portions you prefer, allowing your pet to eat properly. This will maintain a healthy diet and prevent your cat from binge eating or overeating.
Real-time Camera 
The device is equipped with an HD camera that lets you interact and watch your pet while they're eating. So, you can remotely talk and feed your pet even if you are not home. In addition, you can record videos and photos too!
User-friendly Functions 
This device is easy to control manually or via the Faroro smartphone application. Taking interesting pictures of your pets while they eat is also simple. Plus, the device has a reversal mechanism that prevents food from getting stuck. 
So, it's a comprehensive device.  
Verdict 
This is another high-budget product that is ideal for those looking for more interaction with their pets while feeding them remotely.
4. Welltobe Pet Feeder – Best For Multiple Cats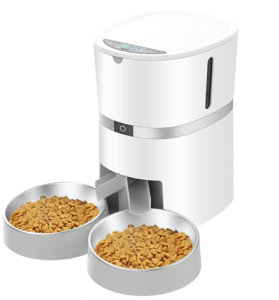 This is another unique cat feeder that is targeted at pet parents having multiple kitties at home. If you're facing troubles feeding them from one feeder, this product will save you. 
With a design having two bowls, both your feline friends can enjoy snack time together!
Features 
Upgraded Design 
The design features a 2-way splitter that feeds both your cats comfortably. Its containers divide the meals equally and make sure multiple pets enjoy their meals. The stainless steel food bowls hold the food properly and prevent spilling.  
Alternatively, you can use the bowls individually as a single feeder and serve a single furry friend. 
Excellent Meal Scheduling  
You can set this device up to dispense up to 6 meals per day for your cat. As every meal has a good proportion of food, you'll have no worries about your cat's nutrition. 
Once scheduled, the device will remember the meal plans. It will keep following the schedule until you change it.  In addition, it can store up to 13 cups of food, and the bowls hold up to 3 cups effortlessly. 
Voice Recording System 
Want to call your pets to have their meals when you're away? With this fantastic automatic cat food feeder, it's possible! The built-in recorder can record a 10-second long message to call your cat and remind them about snack time. 
You can also disable the voice recording to let your pet be in peace during weekends or whenever you're home. 
Efficient Power Supply 
The WellToBe cat feeder has an efficient adapter and runs on 4-D batteries for uninterrupted performance. If there's a power outage or some electrical complications, it will still feed your cat.
Verdict 
This is ideal for homes with multiple pets and who prefer a voice recording feature to interact with their cats. 
5. MOERUN Clog-Free 6L Tank Cat Food Dispenser – Best With Storage Capacity
If you are looking for a feature-rich product that is also easy to maintain, have a look at this cat feeder. Offering you both application and manual programming, this offers you amazing flexibility in meal scheduling. 
Having excellent power backup and storage capacity, it's an ideal product for any pet parent. 
Features 
Outstanding Voice Recorder 
This cat feeder allows you to record up to 20 messages to call your cat to have their meals. So, when you're not home, you can talk to your feline friend using various messages. It will make your cat feel more comfortable and eat peacefully. 
The functionality helps to develop a better bond with your cat.     
Ample Storage 
The cat feeder can store enough food to feed your cat and medium-sized dogs for ten days or more. With a 6L capacity, you don't have to worry about food storage ever. You can easily check the remaining food through the transparent tank and refill it accordingly. 
You don't have to open the lid frequently, adding to the convenience.
Simple Meal Organization 
Using the simple LCD screen, you can set the meal schedules to dispense 1 to 10 meals every day. You can set it up to have 1-12 proportions per meal for a balanced diet. Remember that recommended kibble size is 2 to 20mm. 
This flexible scheduling will allow your cat to develop healthy eating habits and stay fit.   
Easy to Clean 
The food tray is easy to clean and is manufactured using food-grade material. Apart from being safe for your cat, removing and cleaning up the leftovers is also easy. 
Verdict 
This is an ideal option for cat parents who frequently stay away for business trips or other purposes. The ample storage is enough to feed your cat for weeks.
6. WOPET 6L Automatic Cat Feeder – Best with WIFI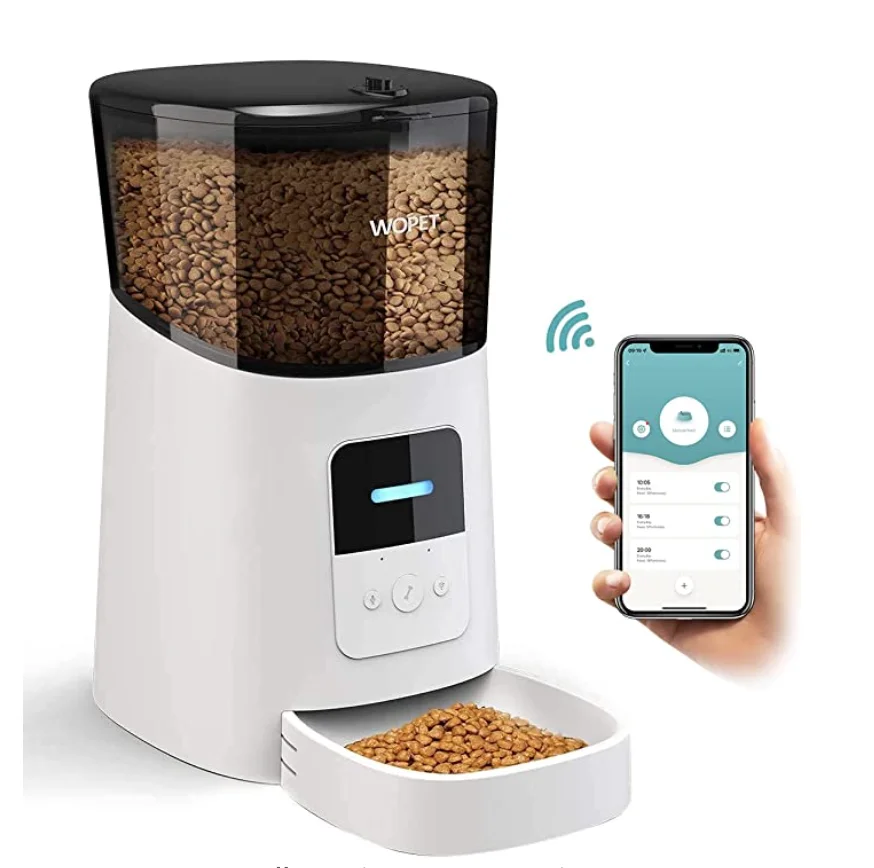 The next product on our list is from a popular brand WOPET and is one of the most innovative products out there. If you want a high-tech product with programmable features and smartphone connectivity, then this is the one. 
With an excellent power supply and ample food storage capacity, your cat will absolutely love it!   
Features
Remote Feeding 
You can now control your cats feeding schedules from anywhere using the device's smartphone app. Schedule up to 15 meals for your pets, where each meal is about 5 grams per portion. 
It helps you to monitor your cat's body weight and eating habits. And a healthy cat means a happy cat!   
Custom Voice Message 
Sometimes, your pets may feel lonely while eating if you're not around. You don't have to worry about all that with this device, connecting with your pet just got easy. The voice recording feature lets you record a brief voice message that you can play during the cat's mealtime. 
You can program the device to play the message while food dispenses. Or, you can set a specific timing for this message.
Uninterrupted Feeding 
No more worries about power outages affecting your cat's meals! The device consists of a power adaptor, and you can also power it using D batteries. The cat feeder has excellent power backup, so the battery doesn't run out fast. 
So, when you are away, you will be fed event during a power cut.  
Infrared Detection 
When the device is filled up with food, the infrared sensor will notify you about that. It prevents food from getting stuck and spilling.
Verdict 
If you have a higher budget and prefer programming your cat feeder using an app rather than manually, then give this a shot.
7. Surefeed Microchip Pet Feeder Connect – Best for Implanted Microchip or RFID Collar Tag
This cat feeder allows you to monitor your cat's feeding habits effectively and organize the meals. All you have to do is connect it to a smartphone app, and it works its magic!
The device is built for tech-savvy people who don't mind spending a little extra on their feline friends. 
Being microchip operated can help prevent fights between your pets. So, this works for homes with multiple cats too!
Features 
Microchip and RFID Tag Scanning 
The main highlight of this cat feeder is its ability to read your pet's collar tag or microchip. When your pet puts his head close to the bowl, the feeder scans its RFID tag or embedded chip. 
If it matches the programming, the lid opens, and your cat can enjoy snacks in peace!
It is a huge advantage as it prevents other pets from stealing your cat's food. 
App Connectivity      
You can connect this app to your smartphone via the Sure Petcare app using the hub. Use this to set the meals portions and correct portion weight. There are LEDs to assist you in achieving the ideal weight, so your cat isn't overfed. 
Keeps Food Fresh 
With this device, you don't have to worry about food freshness ever! Firstly, the lid is pretty secure, so the contents inside are always protected. When you put dry food in it, the lid closes properly, utilizing the neoprene lip. 
It retains moisture and keeps your food tasty and fresh for hours. So, no worries if you have a picky cat. 
Tracking Pet Health 
Using the smartphone app, you can check the feeding times and dry food quantity for your cat. The device has integrated scales that help you set the perfect weight for their food. So, if your cat isn't eating properly, you'll notice it easily. 
You'll receive notifications on your phone about whether your cat has eaten the food or not.  
Verdict 
The device is ideal for monitoring pet health and if your pets fight each other for food. 
8. PETLIBRO Automatic Cat Feeder – Best for Dry Food
It's time to enjoy more playtime with your cats when their food is all set. With this fantastic device from Petlibro, you can customize the meal times and portions, freeing you from all worries. 
Providing flexibility and control over your feeding, the device also has added a power supply to offer uninterrupted service.    
Features
Convenient Meal Scheduling 
You can use the LCD screen to set the meal times, portions, and the number of times you want the device to dispense. 1 to 4 meals are ideal for a day, and you can serve a maximum of 9 portions per meal. 
So, you can arrange a healthy diet plan for your kitties if they are not eating well.  
Convenient Voice Recorder 
Do you want to stay in touch with your cat while they're eating? You will be glad to know that the device comes with an excellent voice recorder. You can set up a voice recording clip of 10 seconds that play to call remind your cat about mealtime. 
It makes your pet feel safe and connected to you. 
User-friendly Design 
All the controls of this device are very easy to use and master. Opening it up is also simple, as you just need to pressure from both sides and lift it up. Simply put in or scoop out dry food for your cats, and put back the lid. 
The simplest design also makes it very convenient to clean and maintain the feeder.
Useful Desiccant Box 
This device is excellent for keeping your dry food fresh for hours, especially when you are not at home. The tank, along with the desiccant bag, keeps the food fresh. So, your cat will enjoy a healthy and fresh meal of kibbles every time! It might increase your appetite and mood too. 
Just remember to change the desiccant bag every month for best food preservation.  
Verdict 
For those looking for a programmable device that is easy to clean, this is the one. 
9. Cat Mate C500 Automatic Pet Feeder – Best for Wet Food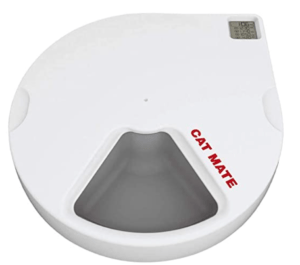 This is perhaps the best automatic cat feeder with a timer and comes from a known brand having many customers. It can help you serve multiple meals when you are away, without missing out ever. 
The device has a durable design and is capable of keeping your food fresh for hours.
Features 
Convenient Design 
The cat feeder is super convenient to use both for you and your cat. Just put food in the compartments according to the proper weight. Set the timer, and you're done! In addition, the compartment easily fits your cat's mouth and is suitable for other pets too.
In-built Timer 
The digital timer in this feeder helps you set your cat's schedules properly. If you are not at home, the device can offer five meals for your cat. This will consist of one initial feed and other timed feeds throughout the day. 
The simple LCD shows all the programmed meals to make things simpler.
Heavy-duty Design 
If you are looking for an excellent investment for your cat, this device won't disappoint you. Having a sturdy design, the compartments of the feeder are tough and secured. The food is kept fresh, protected from insects, and offers an enjoyable mealtime!  
If you want more stability, you can fix this device onto a wooden board.
Verdict
The device will be ideal for cat parents struggling with setting the right meal times and proportions for their kitties. Moreover, it's best to feed wet food.    
10. Petmate Pet Café Feeder - Best Budget
This product runs on gravity feed technology and is ideal for those looking for convenience. It is designed for busy pet parents and has excellent features like easy food access, quick refilling, and ample storage.
The feeder's features are convenient enough to feed your cat quickly without any hassles. So, you spend more time playing with your cat rather than managing their feeding schedule.
Features 
Automatic Dispenser 
The most exciting feature of this device is its automatic food dispenser. It dispenses food as your cat eats, making the process comfortable. So, you don't have to refill it very often. It will be ideal if you don't have much time for refills. Moreover, the food stays fresh longer.
Simple Refilling 
When you do have to refill, things are very simple with this automatic feeder. It's because of the easy-to-use hopper lid, which makes pouring or scooping out food easier. It is a very convenient design, with the storage hopper locking firmly in the base without spills.     
Easy Access to Food   
The automatic feeder offers quick and simple access to food to busy cat parents. It stores the food securely 24/7, and you can increase it anytime you want using the snap-on lid. Moreover, the design is very convenient to pick up and take anywhere.
Besides, the device is great at keeping the food fresh all day long, even if you scoop and pour cat food often.
Verdict
If you're on a budget and don't want a programmable device, you can go for this. 
Types of Automatic Cat Feeders
Now that you have read all about the various automatic cat feeders in the market, it's time to buy one.
But the first step of purchasing the device is to know all about it. So, we will talk about all the necessary details of cat feeders in the following sections. 
Let's begin with the main categories or types of automatic cat feeders.

Programmable Cat Feeders 
These types of cat feeders offer you excellent control while feeding your kitty. It might have a similar design as other feeders. But, its advanced technology lets you program it for a certain quantity and time for feeding. 
The device is ideal for cat parents who want to monitor their pet's eating habits and improve them. These cat feeders are ideal for serving dry food at your preferred intervals. That's why it's great for busy pet parents with less time to be at home.   
Smart Cat Feeders – my No.1 choice 
These devices may be a bit expensive, as you can operate them using an app installed on your smartphone. You can change feeding schedules, meal proportions and also receive notifications about the remaining food inside the device. 
Smart cat feeders also latest control embedded cameras and record voice messages. These help you interact with your cat when they're busy eating. So, both of you won't miss each other!          
While everything is done remotely, you can also keep track of how much your pet eats daily. However, these devices may not be suitable for users who aren't tech-savvy, so choose wisely.
Gravity-Based Cat Feeders 
These are the most popular automatic cat feeders which run on gravity. You just have to fill it with the amount of food you prefer for your cat. If you are away, your cat can directly eat from the food bowl. 
As soon as the food is depleted, the device will refill using the power of gravity. That's why these devices have sufficient storage and also keep the food fresh for days.    
Microchip or RFID Collar Detecting Feeders 
These have a unique design that keeps the meals separate among multiple pets. You can use this if you have numerous pets fighting and stealing each others food. 
When a cat approaches the device to eat, its lid will open if the cat's microchipped or RFID collar is programmed in it. It will help you monitor a particular pet's eating habits or health.  
What To Consider When Buying Automatic Cat Feeder
Since you know the types and have read our reviews, you now have a clearer idea of cat feeders. But buying a cat feeder isn't a walk in the park. There are various features and functionalities you need to consider.
And that's why we've listed the essential factors below for your reference. 
Number of Pets 
An important factor in understanding if a cat feeder is right for you is looking at your pets. You need to consider how many cats this device has to feed daily. Based on that, you can select the type of device. 
If you have a single kitty, any standard cat feeder will do. You have to check out other features like meal scheduling and usability to make things comfortable for your cat. 
For homes having multiple cats, you might require two cat feeders. In addition, you can buy a cat feeder having multiple bowls for dispensing food. It will prevent your pets from fighting for food and make mealtime peaceful.   
Feeder Capacity 
Next, you have to check the device's food storage capacity. You have to decide how much storage you need based on your cat's requirements. Also, you have to consider how much time you'll be away. 
For instance, if your cat suffers from poor appetite or nourishment issues, they need timely meals. So, you need a device that releases scheduled meals at the right proportions. It prevents your cat from overheating and fills them up nicely. 
Remember these points – 
Food Preferences 
All this searching and analyzing is to offer your cat ultimate comfort and convenience. So, apart from the technicalities, you need to check whether the device works with the food your cat prefers. 
Most high-quality cat feeders, like the ones mentioned above, are compatible with all types of kibble. On the other hand, some devices support kibble sizes between 2 to 20mm. So, you need to check these details and research well to finalize a product.    
As a rule of thumb, pick cat feeders that support all food types and kibble sizes. However, it might cost you a bit more.
Ease of Use 
After all, what's the use of a device which isn't easy to operate? Therefore, select a device having functionalities that suit you properly. Only then will you be able to set it up for your cat. 
You can buy a standard device with manual controls or one that runs on an app – 
For common devices, check out the LCD and the simplicity of buttons. 

For a high-tech option, remember that you need to have a specific Wi-Fi range to use these devices. Most cat feeders running on a smartphone app are compatible with only a 2.4GHz Wi-Fi connection. 

The design must also be convenient for your cats. If they can't eat easily or place their tiny mouths on the food tray, look for something else.
Maintenance 
Handling pets can sometimes get overwhelming. The last thing you need along with this is a complicated cat feeder, which requires too much of your time. That's why it's essential to select a device that is easy to clean and maintain. 
Try searching for devices that have removable food trays and bowls. Also, check if you can easily disassemble the device and wash it. 
You should always clean out the remaining food, clean it, and prepare it for a refill. 
Be it an automatic cat feeder with a timer or a gravity-based device; these devices can make things super easy for you. 
If you're worried about your cat not eating properly or overeating, cat feeders will help you take a closer look. It's one of the best decisions you can make for your cat.
It's also important to remember that spending more time with your cat is necessary. If you want your feline friend to be happier and healthier, you have to give them your company.
So, besides using an automatic cat feeder, try to feed them yourself and play a little!    
Frequently Asked Questions About Automatic Cat Feeder
This depends on your cat's intake and your availability. If you are going to be away for a few weeks, fill the feeder up accordingly. Also, keep in mind the number of pets here. 
If you're someone who stays out most of the time, get a device with ample storage of about 7 liters, and fill it. But, if you're going on a short trip for a few days, less storage will work.   
Cats having a larger intake will enjoy a feeder with lots of food. However, there is always a chance of their overeating, so keep that in mind.  
Some cat feeders come with additional ice packs to keep the food fresh inside for many days. These types of feeders are great if you're planning to go on a vacation and want lots of food in the feeder. 
They may cost you some extra bucks, but you don't have to come back and see a sick cat! Moreover, the ice packs also keep away any awful food smells, so it's a win-win.
As an Amazon Associate, I earn from qualified purchases. www.bestcatfoodreviews.com  is a participant in the Amazon Services LLC Associates Program, an affiliate advertising program designed to provide a means for sites to earn advertising fees by advertising and linking to Amazon.com.